Étant Donnés - Bleu
An entirely singular, free-standing sonic world, Penultimate Press delivers the first ever vinyl reissue of Étant Donnés' 1994 album, "Bleu", intertwining field recordings of natural ambiences and intentional acts with disarming vocalizations, conveying a creative wonder that's unlike anything else, before or since.
By Bradford Bailey, 30 December 2021

There are artefacts within the history of recorded music that stand entirely on their own; bound to the circumstances of their moment, while owing allegiance to none. Such is the case of Étant Donnés' Bleu, originally issued by the legendary Staalplaat imprint in 1994, now receiving its first ever vinyl pressing by Penultimate Press. The final instalment of a tetralogy of field recording based works by the duo, preceded by Aurore, Royaume and Aimant + Aimant - also previously reissued by Penultimate Press - the album's subtle textures, natural ambiences, and disarming vocalizations are imbued with a startling sense of intimacy, weaving a free-standing aural context from the inner and outer worlds of the singular minds that brought it to be.





Founded in 1977 by Morocco born brothers, Eric and Marc Hurtado, Étant Donnés - taking their name from Marcel Duchamp's last major work - belongs to the flowers of sonic creativity and experimentation that developed in the wake of punk, hybridising the techniques and approaches of the avant-garde and DIY with countercultural attitudes, across a body of work more than 30 albums deep - including collaborations with Alan Vega, Genesis P. Orridge, Michael Gira, Lydia Lunch, Philippe Grandrieux, Mark Cunningham, and Bachir Attar - that traversed the fields of experimental film, performance, musique concrète, field recording, and experimental music.
Bleu, originally released in 1994, is the fourth in a tetralogy of records that includes Aurore, Royaume and Aimant + Aimant, each being works of musique concrète built from body of field recordings and poetic utterances by the duo. Like its predecessors, the album not only defies all standard notions of genre, but deftly avoids orthodox perceptions of what its core practices usually entail.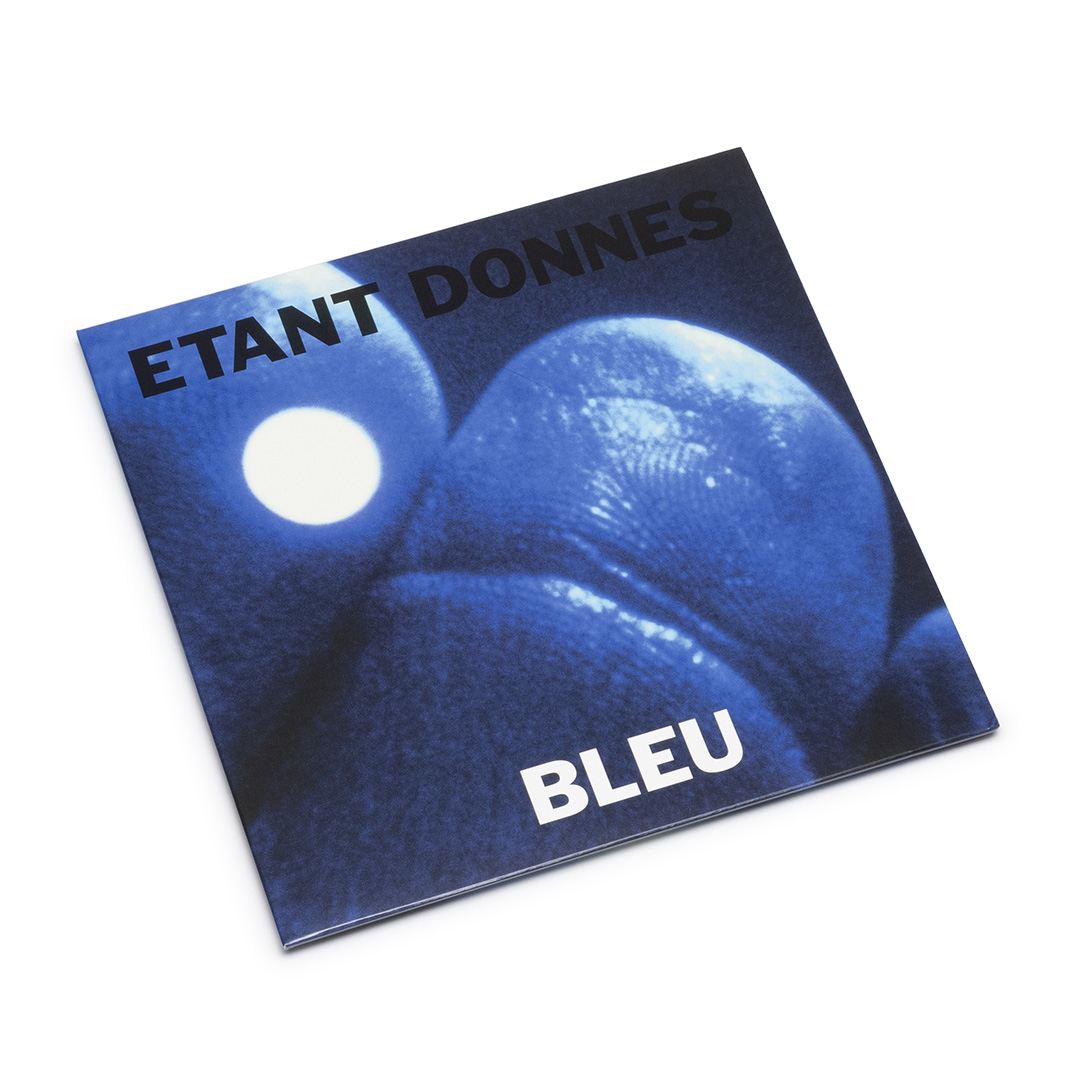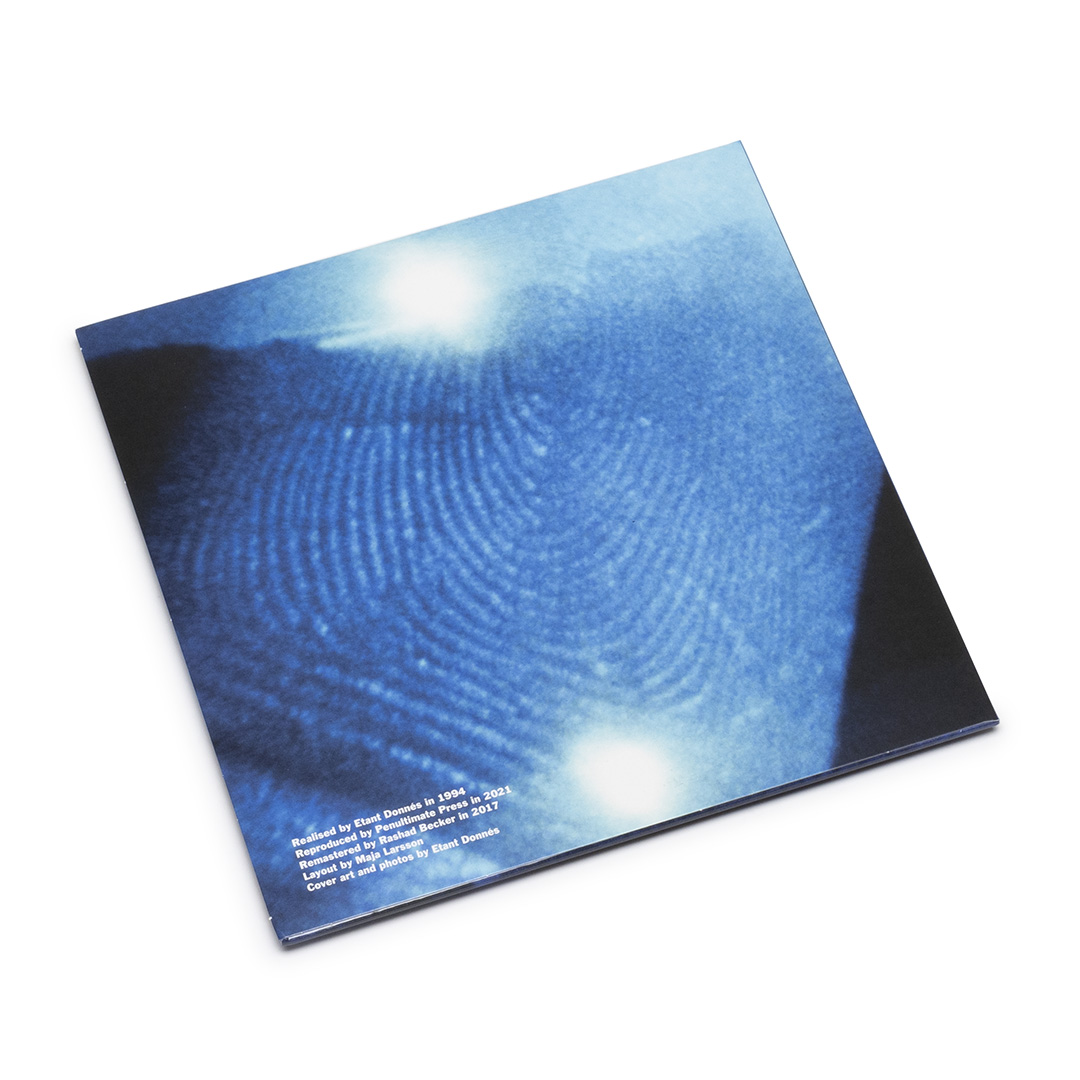 Eight works - spanning four sides of the double LP - rise as meetings of whispers - the whispering voices of the brothers intervening with the whispering textures produced by nature and discreet acts - seemingly resting at the verge of a violent scream that never comes. Field recordings of natural occurrences and intentional actions intertwine, blurring the boundaries purpose and chance, as subtle deployment of sound collage challenges the location of the artist's hand, laying a striking foundation for the raw and unmediated vocals that punctuate the album's length; the sounds of splashing water, scraping pebble, crackling fire, percussive rhythms, the rustles of nature, and the human voice building an uncanny body of magical narratives that points the brothers' roots in the work of Duchamp.
Fascinating, immersive, deeply personal, and remarkably tense, Étant Donnés' Bleu is a revelatory inner world; a creative wonder unlike any other that gives the impression of having appeared fully formed. Issued by Penultimate Press in its first ever vinyl edition - spanning a full twoLPs - and its first ever reissue of any kind since its original 1994 CD release, this one is not to be missed.