Giuliano Sorgini - Percussioni in Crescendo
From Vinyl Magic comes the first ever vinyl reissue of one of the greatest holy grails of Italian Library Music, Giuliano Sorgini's astounding, 1971 LP "Percussioni in Crescendo". Part of their dedicated initiative to the composer's back catalog - in collaboration with Edizioni Leonardi - it's driving rhythms and fluid melodic jams - falling into similar territory to those explored concurrently by Gábor Szabó and Jimmy Smith - weave a hypnotic, intoxicating creative journey that's bound to leave every listener permanently changed.
By Bradford Bailey, 24 March 2022

The last few years have been a remarkable period for the reissues of Italian Library Music, unearthing astounding, rarely-heard works by Piero Umiliani, Alessandro Alessandroni, Egisto Macchi, Ennio Morricone, Bruno Nicolai, and numerous others. Just when we thought it couldn't get any better, the Milan based imprint, Vinyl Magic, has dropped one of the greatest and most sought-after achievements within this thrilling context of creative exploration, Giuliano Sorgini's "Percussioni in Crescendo", originally released by Leo Records in 1971. A hypnotic journey into a driving world of heavy breaks and moody grooves, there's little question as to why original copies are so coveted and command the crazy prices that they do.





Post-war Italian music is an incredibly intriguing historical context. From the experimental excursions of collectives like Musica Elettronica Viva, Gruppo di Improvvisazione Nuova Consonanza, Futuro Antico, and Aktuala, to the minimalism of Franco Battiato, Giusto Pio, Roberto Cacciapaglia, Luciano Cilio, and Lino Capra Vaccina, or progressive oddities of bands like Goblin, Le Orme, Osanna, and Area, something was clearly in the air. Almost universally, the country's artists relentlessly pushed creative boundaries with a radical sense of independence, producing entirely singular statements that are inexplicably unknown in other parts of the world. It wasn't until the '90s and early 2000s, when diggers began mining the past of gold, that a clearer image of what had been emerged.
Resting within the vast expanse of visionary albums produced in Italy during this period, is the territory loosely categorized as Library Music; recordings that were commissioned and owned by record labels, to be licensed for use within television programs, radio, and film, as stock or background music. While Library Music was produced in numerous countries during the 1960s, '70s, and '80s, nowhere was it more unique and groundbreaking than in Italy. Many of the country's most noteworthy composers - Ennio Morricone, Piero Umiliani, Egisto Macchi, Bruno Nicolai, Sandro Brugnolini, etc. - used the context as an aggregator of radical experimentation and creative freedom, as well as a means to deliver incredible forward-thinking music to broad audiences.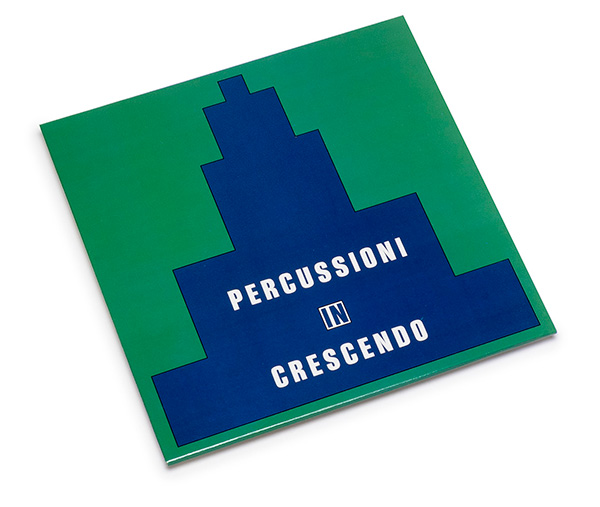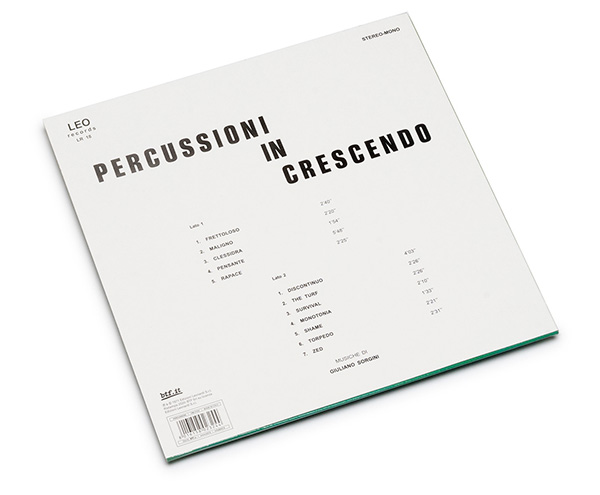 Library Music is notoriously mysterious. Its creators often worked in the shadows, releasing recordings under names other than their own. Among the most mysterious of them all is Giuliano Sorgini. Almost nothing is known about the composer, beyond the fact that he produced roughly two dozen albums across the '60s, '70s, and '80s, including a series of collaborations with Alessandro Alessandroni and Lesiman under the moniker of Raskovich. Like most of his peers in the field, Sorgini used the context as a vehicle for expansive creative exploration, often traversing numerous distinct idioms within short periods of time. On one end of this extreme is"Elettroformule", the wildly experimental / avant-garde LP from 1972 that began Vinyl Magic's reissue initiative of the composer back in 2019. At the other is "Percussioni n Crescendo", the latest in the imprint's series of reissues dedicated to the composer.
Originally released by Leo Records in 1971, "Percussioni in Crescendo" is a break diggers dream, seamlessly traversing the territories of jazz-rock and lounge, bossa nova, and funk. Shifting between driving, rhythm-heavy movements that dive toward the hypnotic and ecstatic, and stretched out jams that meander through melodic lines on organ, guitar, and minimal keyboards, the album is particularly distinct within the field of Library Music for cohesiveness. Fluidly evolving over two sides - marked by virtuosic playing by every member of its ensemble - it feels as though it was composed to be heard in totality, rather parceled into films.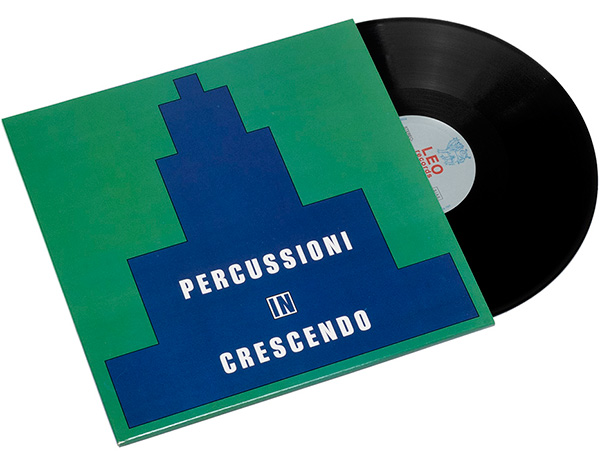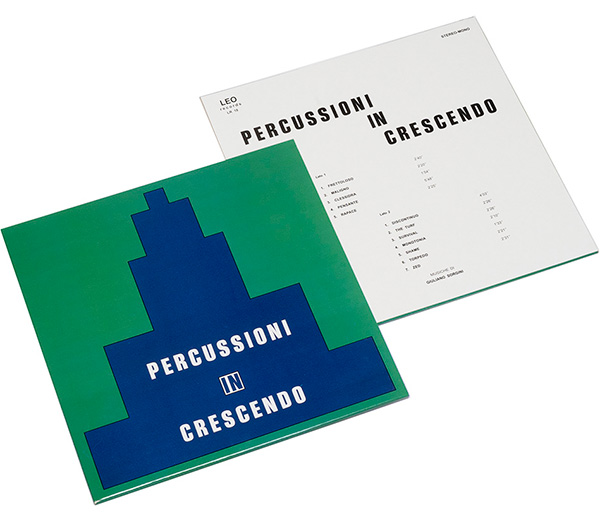 Easily one of the greatest LPs in the canon of Italian Library Music, "Percussioni in Crescendo" is a pitch perfect illumination of the towering talent of Giuliano Sorgini. Infectious, insanely funky, stunningly beautiful, and creatively thrilling - falling into similar territory as Gábor Szabó explored during roughly the same period, with a dash of Jimmy Smith thrown in for good measure - it's one of those rare records that you can't get off the turntable once the needle drops. A little bit of something for everyone, and not to be missed.