Maciunas Ensemble - YoplaBoum + Permanent Wave
A monumental achievement at the boundaries of rhythmic minimalism and art-house rock and roll, Edition Telemark's latest entry in their catalog of stunning releases from the legendary Dutch outfit, Maciunas Ensemble - "YoplaBoum + Permanent Wave" - stretches across a full double LP and a CD, immersing the ear in some of the most intoxicating and infectious sounds we've heard all year; liberated, raucous, freewheeling, and what Phill Niblock once deftly referred to as 'rhythmic drone'.
By Bradford Bailey, 08 November 2021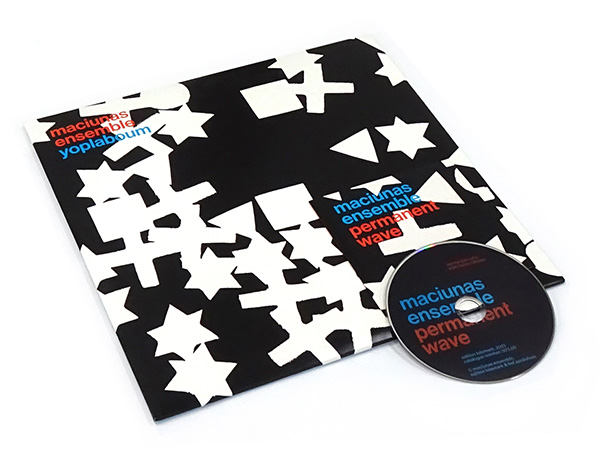 For nearly a decade, the Berlin based imprint, Edition Telemark, has slowly assembled a strikingly unique discography of radical realizations of music - spanning the contemporary and archival - that rests at sound's crucial juncture with the context of fine art. A sublime vision of this wondrous territory, the label's latest, YoplaBoum + Permanent Wave, gathers a body of recording made during the first half of the 1980s by the legendary Dutch outfit Maciunas Ensemble. Originally self-released by the band in tiny cassettes editions - YoplaBoum and Permanent Wave - and now reissued for the very first time as a single release in the form of a double LP + CD edition, the album's raucous and freewheeling sounds capture one of the most important efforts in European experimental sound-craft at their rarely heard heights.
Founded in 1968 by the composers Paul Panhuysen, Remko Scha and Jan van Riet to realize scores by Fluxus founder George Maciunas, the Maciunas Ensemble rapidly grew into a great deal more, joining a zeitgeist of notable composers working together in collectives - Musica Elettronica Viva, Gruppo di Improvvisazione Nuova Consonanza, AMM, the Sonic Arts Union, the AACM, etc. - that attempted to achieve new liberated heights within experimental music through collaboration. Of them all, the Maciunas Ensemble - allowing total freedom through the improvised sounds they produced - was easily among the most radical.
After numerous personal changes over their first decade of activities, by the early '80s the Maciunas Ensemble had settled into a stable line-up of Paul Panhuysen, Jan van Riet, Leon van Noorden and Mario van Horrik, and embarked upon what was one of their most prolific periods, cultivating its own brand of rhythmic minimalism that drew on rock, post-punk, and drone. Visiting them during this period, Phill Niblock referred to this sound - produced by repetitive rhythmic strokes, simultaneously on various instruments - as "rhythmic drone". It is into this remarkable moment that the band's two albums, YoplaBoum and Permanent Wave - almost entirely unheard since their original release, and joined together as a single release by Edition Telemark - draw the ear.





YoplaBoum + Permanent Wave builds on the ground covered by 1976 and S/T - Edition Telemark's previous two releases dedicated to the Maciunas Ensemble - and deftly paints a striking image of what made the group so enduring. Gone are the fractured, freely improvised structures that defined the group's output of the '60s and '70s. Instead, at the outset of YoplaBoum - taking up the full four sides of the double LP - a new, visionary and free-wheeling, experimental form of rock and roll emerges. Featuring van Noorden on cello, Van Riet on guitar, Van Horrik on percussion, and Panhuysen on piano, guitar, and vocals, the band seemingly digests touchstones from projects like Red Krayola, The Beat of the Earth, The Velvet Underground, Faust, The Fugs, and Destroy All Monsters, that have been chewed up, simplified, and spit out in an elegantly minimal form, before slowly evolving, over the album's totality, into absorbingly infectious sheets of 'rhythmic drone'.
This sets the stage for the wonder that is Permanent Wave. Occupying the CD component of the release, its two works - Permanent Wave and East-Indian Calypso - capture a vision of the remarkable range and diversity that seed the groups notions of tonal rhythm. Without sacrificing coherence across the album's hour and a quarter expanse, hypnotic, resonate beats are laced with drones, instrumental interventions, and vocalizations that dance between moments of unrepentant chaos, tribalism, and elegant, restrained grace.
So insanely good that it stands beyond description, never before have we been offered such an expansive document of the Maciunas Ensemble within a single release. Capturing the group at their absolute best, YoplaBoum + Permanent Wave is a monumental achievement that beckons a full-scale revival of the ensemble's incredibly important legacy. Issued in a limited edition of 300 copies as a double LP, housed in a single sleeve with two printed inner sleeves that feature new liner notes by Leon van Noorden and Mario van Horrik, as well as a selection of photos and artwork from the period and a CD, we couldn't possibly recommend it enough. High among our favorite releases of the year, grab a copy while they last.