Rob Jacobs, known in the DIY scene for his group Wei Zhongle, released his S/T solo album on February 10th through Chicago progressive label, International Anthem.
Jacobs' eponymous album flirts with Eastern folk, psychedelia, avant-garde, and lyrics that "surface out of the waters of the subconscious." Just as surprisingly, it even evokes Western pop music. 'Wordless Incantation' wryly introduces listeners to the album. Listeners may not know what to expect, and the song only leads them deeper into trepidation. The nervous bassline and wordless incantation give nothing away but groove, mystery and a taste of the dynamism to come. 'Walking Outside and It's Dark' vaguely reminds western tuned ears of Talking Heads if David Byrne had ever developed a subtly mysterious falsetto. 'Your Sleeves Are Red and Glistening Also' revels in danceable Eastern folk influences. 'Find Joyous Nest,' a poem, suggests existential struggle. On its own, the poem is beautiful. In the context of the album, it pulls one further into an unexpected wonder. A wonder that often focuses on Jacobs' Eastern folk influences, and questions its meaning in a land of I-IV-V chord progressions, maximum compression, and loud pop hooks. To accomplish this all and more, Jacobs employs an admirably expressive voice, often slipping between Indian classical vocal stylings and an enticing falsetto. He places his voice in the midst of sparse acoustic guitar, bass guitar, clarinet, and percussion arrangements, often focusing on groove-filled textures instead of harmonic movement. It develops the narratives as well as functions as both lead instrument and additional texture. Through his music, Jacobs creates vivid imagery and scenes, which in many cases would have led to easy comparisons to "film music."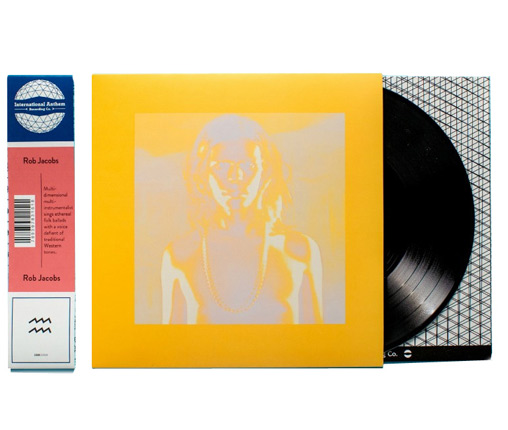 Yet Jacobs pushes through the glass ceiling of that trope. Only fragments of lyrics surface from the sparse, grooving rhythms intelligibly, yet together the two suggest a vividly developing narrative, much like a film. Jacobs does not create film music so much as music that could have easily seen creation as film. 
Exerpt from dingusonmusic.com