**400 copies** The Vanity Records box sets present a comprehensive anthology of releases by legendary Japanese DIY label Vanity, active in the late 70s and early 80s. It was conceived by Studio Warp, in collaboration with Agi Yuzuru and the whole roster of artists involved with Vanity. Eight years in the making, the limited edition project is finally seeing the light of day on October 21st 2019, with distribution duties handled by Kyou Records in Japan and WRWTFWW Records in the rest of the world.
Musik is a compilation originally released in 1981 as a double vinyl box set through Vanity Records. It is a selection of thirteen artists' tracks that were chosen from over 100 cassette tape demos sent to Rock Magazine from all over Japan. It is also a monumental piece of work that documents early, experimental home recording music from Japan that emerged out of the advent of affordable synthesizers and multi-track recorders in the mid-1980s, stimulating the underground music scene of the era. With the exception Adode/Cathode (who released music from Daigoretsu and Pinakotheka), Tokyo led by Munehiro Narita (High Rise), Plazama Music (predecessor of B.C. Lemons), Arbeit (a group by designer Achim Duchow who created front cover artwork for Rock Magazine), Kiiro Radical and Invivo who separately released cassettes on Vanity, and Yuzuru Agi's solo alias New York (that featured his field recordings from a visit in New York), all other artists are anonymous and their information is shrouded in mystery. Riddled with tape hiss noise and exceedingly low-fi sound quality, it is an accumulation of various ideas and DIY style from early '80s Japanese underground. This is the first time that it is reissued on CD.
All tracks included in this 2CD box set were digitally mastered from the original master tapes. Discs come in paper sleeve with a newly designed artwork and are housed inside a 135 mm x 135 mm x 17mm box. All copies includes a Vanity Records logo sticker and Japanese liner notes.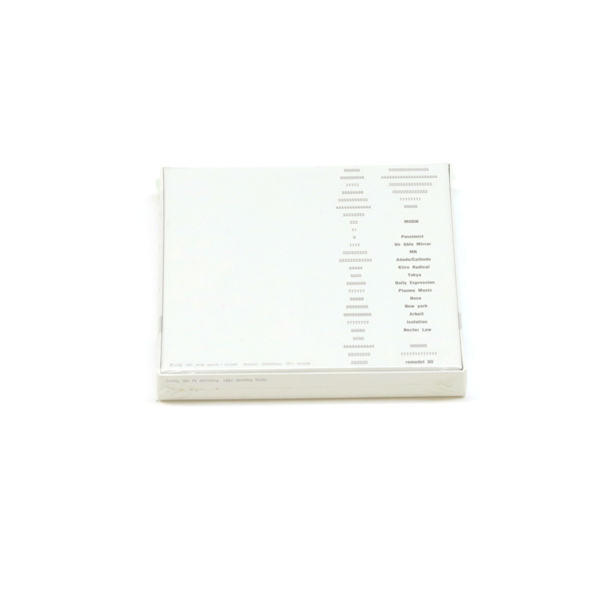 CD-1
01. Pessimist - Sattyuzai
02. Un Able Mirror - Hischool Pigs 
03. Un Able Mirror - Ignorant Animal
04. Mr - 213
05. Adode/Cathode - ..Of The Passive Voice Through The Light 
06. Kiiro Radical - Denki Noise Dance 1 
07. Kiiro Radical - Denki Noise Dance 2 
08. Kiiro Radical - Denki Noise Dance 3 
09. Kiiro Radical - Denki Noise Dance 4 
10. Kiiro Radical - Denki Noise Dance 5 
11. Tokyo - Cassette Tape
CD-2
01. Daily Expression - Inka Sanka 1
02. Daily Expression - Inka Sanka 2
03. Plazma Music - Green Brain
04. Nose - Dolby Nr On
05. New York - 1976
06. Arbeit - Bundes Nachrichten Dienst 
07. Invivo - Isolation
08. Necter Low - Artificial One