Best of 2017
Divine Music (5LP Box)
Label: Manufactured Recordings
Format: 5 LP Box
Genre: Jazz
In stock
€90.00
In process of restock. History can be a motherfucker - its authors vindictive and deeply unfair. Though Jazz - long heralded as the great American art form, got its due, buried within its canon are the legacies of systemic neglect. Its narrative is a mere shadow of the truth. Robert Northern is a lost giant - a name that almost no one has heard - a prodigy once recruited by Miles Davis, John Coltrane, Thelonious Monk, Roland Kirk, Donald Byrd, Charlie Haden, Don Cherry, Freddie Hubbard, Eric Dolphy, and Sun Ra, who ventured out on his own to astounding effect. His discography, playing, being, and humanity are windows into another world - an image of the heights of 20th Century music - a razor sharp unveiling of the sins of time.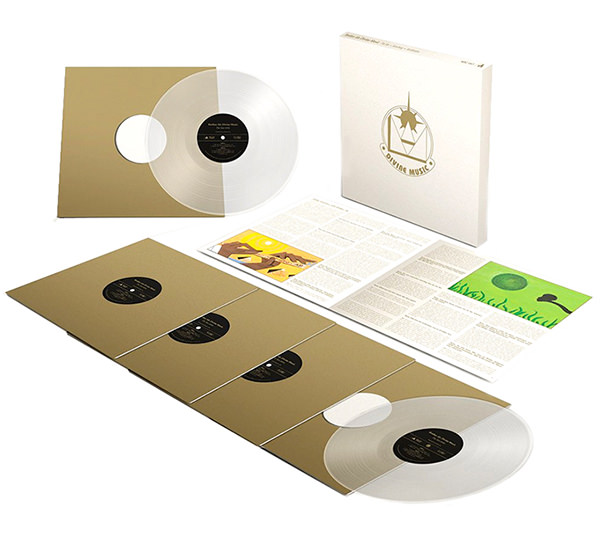 Like many of his generation's most talented voices, Northern bridged two worlds - playing in Classical music orchestras during the day, shifting to Jazz at night. Rather being celebrated for versatility and skill, he found himself more squarely in the cross hairs of the endemic racism of the creative class. With an incredibly body of ensemble work behind him, in 1970 he took leave from the world - joining the legendary music department at Dartmouth College. It was there that his students affectionately gifted him the name Brother Ahh - the vehicle for his imminent return.

Northern's contributions to the history of music are vast - shifting and evolving across the decades following the Second World War. It's impossible to entirely locate him - to say he's single thing. While his efforts with Coltrane, Monk, Byrd, Haden, Ra, and others are enough to ensure his place in the books, it was under his own steam - his voice emerging as Brother Ahh, that his creativity reached towering heights.

Between 1972 and 1983, Brother Ahh and his ensemble released three albums - the first, Sound Awareness on the legendary Strata East, followed by Move Ever Onward and Key To Nowhere on Northern's private imprint Divine Records - each a rare and coveted masterwork - jewels of an era filled with remarkable gestures of African American self-actualized politics and empowerment - capsules of beauty and culture, realized in sonic form. Long hunted by records collectors and fans, they are among the best artifacts of American creative music - sidestepping expectation - flowering with intellect and emotion - pushing beyond the previously explored potentialities of free-improvisation and spiritual jazz.  

In 2016, Manufactured Recordings did the world a great service - reissuing Sound Awareness, Move Ever Onward, and Key To Nowhere - bringing them into wider view - repairing some of history's sins. Few knew what was laying in wait. As the decades passed, the shadows held three more albums recorded during the same period - efforts which never saw the light of day. These long lost gems are the focus of Divine Music, an astounding 5 LP / 3 CD box set - the latest gesture in the label's dedication to the astounding work of Brother Ahh.

The Sea (1978), Meditation (1981), and Searching (1985)  - the three lost albums which make up the totality of Divine Music, recorded on either side of Key To Nowhere, are not only an incredibly valuable expansion of the previously known world of Brother Ahh, but to the total understanding of American music during this era. They open a window into the sonic diversity sculpted by an artist unwilling to bow to the signifiers and expectation imposed on the meaning of Jazz. This is that music as it's rarely been heard - a distillation of countless traditions, flowering as a single force. Divine Music presents an alternate history - an evolutionary music - the joining of Jazz, avant-garde Classical music, Soul, Gospel, the Blues, and New Age, with countless indigenous musics from across the globe. It is the voice of awareness - of heightened consciousness and politic. This is a Black music. This is an American music. This is social and spiritual music. This is a global music, bending time and bridging barrier - offering a new way of understanding ourselves.

Divine Music levels the field, rewriting the past with every note - so unique and diverse in source and result that it is impossible to completely describe. Astounding, mind bending and singular, before us lays one of the most important releases of the year - historically significant - twenty compositions infused with the soaring heights of sonic joy. This is listening at its best.