The history of music is never concrete. It's forever changing and rewriting itself. The past becomes the present and the present reforms the past. What was lost is found, and what was known is lost. Our era, defined by the reissue and archival release, will likely be regarded as a definitive period of historical reparisal and reevaluation. Monumental figures have fallen. The obscure and unheralded have finally received their rightful due. Dark Companion's latest LP - Ron Geesin's ExpoZoom 1969, represents a crucial step in the rebuilding of what is was - unwinding the lasting effects of unjustifiable historical neglect. A stunning album of recordings from the late 1960s, by a seminal, but all too often overlooked artist, lingering in wait for decades, now gloriously released for the very first time.

When you scratch at the surface, Ron Geesin has been there all along - a driving force, with a body of work currently stretching across six decades, bridging the worlds of radical art, popular and underground culture, and sonic experimentalism. Since the 1960s, he has maintained a unique place in the musical landscape of the United Kingdom - a wild and innovative composer, whose early roots in jazz were drawn toward electronics and the ideas of avant-garde. Possessing a singular ability for radical applications of sound, it was Geesin who rescued and co-authored Pink Floyd's psychedelic masterstroke, Atom Heart Mother, in 1970 - also collaborating with the band's singer and bassist, Roger Waters, on soundtrack for the film, The Body, and who produced Bridget St John's seminal Songs for the Gentle Man, the following year.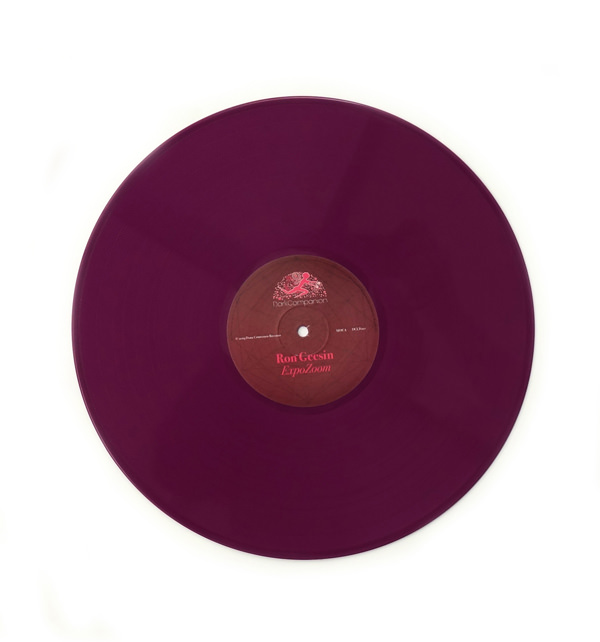 Geesin began to unfurl his own radical vision of sound during the mid to late 1960s with a series of works issued by Transatlantic and his own Ron Geesin Products and Headscope imprints, before coming to note with three albums - Electrosound Volume 1 & 2, and Atmospheres, issued by the legendary KPM Music series, during the 1970s. The previously unreleased recordings which make up ExpoZoom 1969, where commissioned to accompany nineteen looped films to be run in the British Pavilion at Expo 70 in Osaka, Japan - music and organised noises which rep[resented the audio component with an environment which attempted to 'mix' their audio and visual experience of the visitors. Fascinatingly, upon turning in his audio elements, Geesin was never provided with final mixes or insight into how his efforts reached completion. Recently discovering the original tapes in his archive, the composer was stuck by how many ideas and approaches which would emerge within his work over the coming decade were foreshadowed within the recording, making it the ideal time to send them into the world.

Dark, moody, dissonant, and harmonically complex, ExpoZoom 1969 is an endlessly surprising body of work - its sound sources and ideas spanning a vast realm, collectively assembling as something unlike anything else of its era - visionary and ahead, yet somehow entirely of its time. Vast ambience and tonal abrasion, blend with bend melodic and rhythmic interventions, pulling the explicitly avant-garde into tension with the popular world, creating an expanse which flirts at the out edges of the coming movements of ambient and new age music, while presenting an entirely different sense of possibility and dynamic for each.

A crucial entry in our era's efforts of historical reparisal and reevaluation, finally bringing one of the unsung heroes of avant-garde sound from the United Kingdom into wider consciousness, we can't recommend this one enough. Ron Geesin's ExpoZoom 1969, appearing a full half century after these works were composed, still feels like a future which is yet to be. Singular, immersive, challenging, and a joyous listen, we couldn't possibly recommend this one enough.