This is the premiere CD reissue of one of the rarest records by the Gruppo d'improvvisazione Nuova Consonanza, originally issued in 1973 by General Music and recently made available on a vinyl reissue by the American label Superior Viaduct. Il Gruppo perform their own compositions, transporting the listener to a dimension of obscure sounds and providing the "soundtrack" for a film that does not exist. The music evokes an Italian-style Giallo score, and it's no coincidence that the group also performed Ennio Morricone's music for Gli occhi freddi della paura (1971), which exhibits similar horror and thriller atmospheres. Taken from the stereo master tapes used for the original album, it's finally available on CD—a worthy addition to the extensive discography of Maestro Morricone. The CD is packaged in a jewel case with a 16-page booklet, with mastering by Claudio Fuiano, liner notes (in Italian and English) by Claudio Fuiano and graphic design by Alessio Iannuzzi.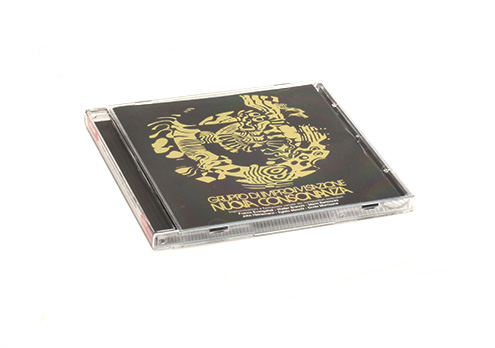 Before 1976's benchmark release, Musica Su Schemi, Gruppo recorded this eponymous album in 1973. Whether the passages are jarring or soothing, clamorous or silken, the ensemble retains astounding organic coherence. An ultra-rare entry in Gruppo's formidable discography, Gruppo d'Improvvisazione Nuova Consonanza is finally reissued for the first time ever. These days free improvisation, a system as well as a widely populated genre as underappreciated sonic frontier, is predominantly associated with a subset and historical period of jazz, but it also has a multifaceted relationship with modern classical music, and it continues to be practiced, if increasingly on the cultural margins, right up to the present.
Novices and the generally tender of ear reliably reject free music as an absence of instrumental skill and compositional craft, or less politely, dismiss it as just so much fucking around. This is comparable to those who derided the Abstract Expressionist painters as a gang that's main discipline was the shuck and jive of charlatanism.
On this 1973 recording, the lineup consisted of Franco Evangelisti, Walter Branchi, Mario Bertoncini, John Heineman, Egisto Macchi, and Morricone. Instrumental duties can range wildly in free-improv scenarios, but profiles of Il Gruppo mainly credit Evangelisti on piano and percussion, Branchi on bass, Bertoncini on percussion and piano, Heineman on trombone and cello, Macchi on strings, celesta and percussion, and Morricone on trumpet and flute.
"Collage 5" begins with the lurch, rattle and wiggle frequently thought of in regard to non-jazz free-improv (in particular, the Brit strains essayed by New Phonic Art, Iskra 1903 and Wired on '73's 3LP set Free Improvisation) as bowed strings and a forlorn trumpet enter the scene. Soon enough rumbling piano keys commence a three-way dialogue with trumpet and drum as a hint of harmonica and human voice follow. Emerging into the equation; trombone, chimes, bells, whistles, and maybe even squeak-toys. Suddenly it's like a BYG/Actuel session co-produced by John Zorn and Eugene Chadbourne.
There is certainly a likeminded spirit of collectivity to that which burst out of late-'60s Windy City USA, and not just to the Art Ensemble of Chicago, either; I'm envisioning the charming pipe-puffing mug of Anthony Braxton. "Collage 5"'s slow, sly growth into a short excursion of what sounds like lopsided marching band music illuminates the comparison with Braxton quite nicely; meanwhile a drunken fleet wielding pennywhistles formulates. And then a finale arrives that can be accurately tagged as bordering on conventionally expressive.
The first half of "Percussione Per Tutti" explores the possibilities of mingling string scrape with an arsenal of diverse percussion; it reminds me of a cross between modern classical and the music of East Asia, though the latter portion of the piece skirts the avant-zone inhabited by their peers Musica Elettronica Viva (or MEV for short; Frederic Rzewski, absent here, was part of both that outfit and Il Gruppo) and AMM (notably, Il Gruppo's oeuvre, if no less rewarding, isn't as formidable as that of Brit contemporaries AMM, in turn providing a fine starting point for the free-improv newbie).