Finally Restocked!! Milestone reissue! A really well-titled collection, featuring legendary albums such as "Prismes" and "Futuristie" – given that it features the most important steps in the long musical journey of Pierre Henry – easily one of the most important electronic musicians of the 20th Century! The package offers a heck of a lot of amazing music for the price – and is very heavy on Pierre Henry's crucial 60s recordings – including both his analogue grooves, and his much more abstract sonic compositions! Much of this material has been issued over the years, but never in a package this complete – and the depth of the sounds here is stunning – a set that should be given as a textbook to anyone who ever thinks about making any sort of electronic music.

Works include "Messe De Liverpool (1967)", "Pierres Reflechies (1982)", "Coexistence (1958)", "Mouvement Rhythm Etude (1970)", "La Noire A Soixante/Granulometrie (1967)", "Variations Pour Une Porte Et Un Soupir (1963)", "Le Voyage (1962)", "Futuristie (1975)", "Messe Pour Le Temps Present (1967)", "Le Xeme Remix (1998)", "Envol (2010)", "L'Art De La Fugu Odyssee (2011)", "Pulsations (2007)", and the previously unreleased "Le Fil De La Vie"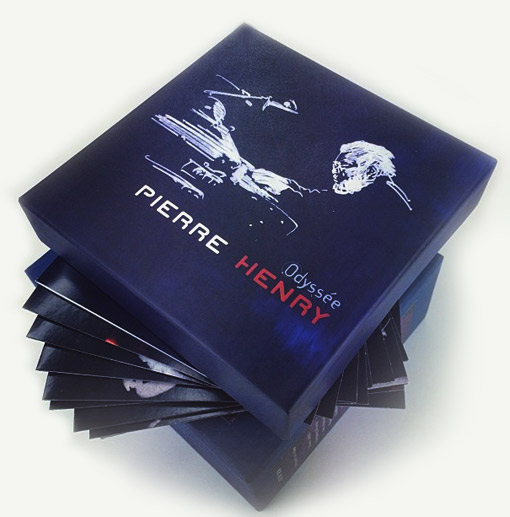 Pierre Henry (1927) was among the pivotal forces behind musique concrète, becoming the first formally educated musician to devote his energies to the electronic medium. His early groundbreaking works include 1950's Symphonie Pour un Homme Seul (a 12-movement work co-written with Pierre Schaeffer employing the sounds of the human body), 1953's Orpheé 53 (the first musique concrète piece composed for the stage), and 1960's La Noire a Soixante (which fused musique concrète with pure electronics). By the 1970s he directed his primary interest toward large-scale works complete with elaborate lighting effects, among them Mise en Musique de Corticolart and Kylderstück. He declared 1997's Interieur/Exterieur the culmination of his life's work.