From the bizarre Polish-cinema-inspired imagery of the album's artwork to the private-press aesthetics of the original LP, the Once soundtrack has long been a mysterious artifact among rare film and electronic music collectors alike. Written and directed by 'the father of virtual reality', the obscure art film is an allegorical tale of'Creation' and 'Destruction' and the battle for humanity. With no surviving prints of the film traced to date, allthat remains is the remarkable soundtrack. Composed by Israeli-born classical composer, Aminadav Aloni, the score is a collection of other-worldly spatial analogue electronics, field recordings and strong overtones of haunting Jewish liturgical music whose synergy create a soundtrack as beguiling and enigmatic as the film itself.
"The soundtrack to a seldom-seen 1974 art film by Mort Hellig - featuring a total cast of 3, playing "Creation," "Humanity," and "Destruction," respectively - Israeli Composer Aminadav Aloni's peculiar, minimal Electronic Music cues come from a more compositional bent than much of the era's Synthetic dabblings. Over the course of 8 song-length segments of hand-played melodic refrain, a certain mood is established of laissez-faire, devil-may-care-ish-ness that is, frankly, quite welcome - segments bordering on pure drone / timbral exploration suddenly give way to more melodic & thematic events that belie the music's function.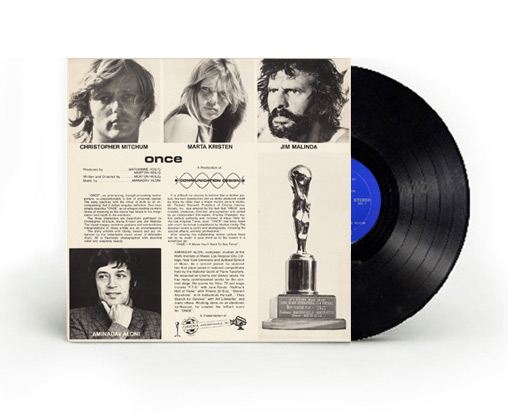 I can't really compare this to much - certainly one of the reasons I nominated it in the first place - but I am reminded in spots of the similarly hand-played nature of the "Sound Paintings" LP by fellow C.P. "Graduate" Michael Lobel & even parts of White Noise's David Vorhaus' score to Saul Bass' impeccable "Phase IV" aren't that far away. There's a certain mawkishness to some of the cues that, sure, borders on Mickey-Mousing - I haven't seen the film, but I envision "Prancing" as being one of the key tenets - but then a sudden gust of atonal VCLFO'ed sparkle ala Douglas Leedy will come in & allay my fears. Only the lightest of Concrète elements come to the fore on occasion - surf on the beach, some rather orgiastic moaning - but otherwise it's pure Synthetic bliss.
Yet another fascinating glimpse into the "Secret" history of electronic music; we're way off the radar-screen here & thanks to the C.P. massive we now have a glimpse into another uniquely personal modus. "Mimaroglu"