A pioneer of electronic, computer, and instrumental avant-garde music, for the majority of his life, the German composer Roland Kayn remained one of the great unheralded figures in the landscape of 20th century sound - a founding member of Gruppo di Improvvisazione Nuova Consonanza, who delved into singular territories entirely his own. Fortunately, in the last few years, in part due to the release of his monumental work, A Little Electronic Milky Way of Sound, by Frozen Reeds in 2017, and Die Schachtel's deluxe vinyl reissue of his seminal composition, Simultan, last year, the scope and depth of his efforts have begun to take centre stage in the public mind. Now, taking this one step further in monumental event, another of Kayn's crucial works, Scanning (1982-1983), comes to light. Issued by the Kayn's own label, Reiger Records Reeks, reawakened by his daughter Ilse, it stretches across an astounding 10 CDs, with the original recordings remastered by the masterful touch of Jim O'Rourke. Needless to say, as far as records go, this one is as important as they get.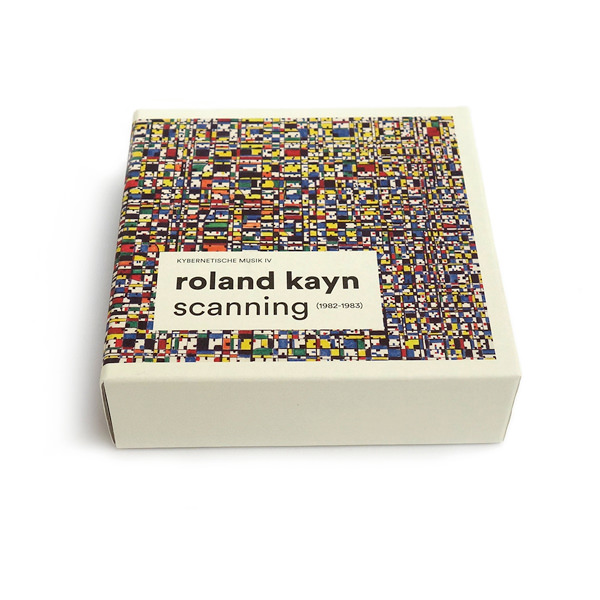 Roland Kayn spent most of his career working beyond the normative definitions and parameters of electronic, electro-acoustic, and computer music, endeavouring to contract an entirely new territory of sound which he referred to as Cybernetic Music, a generative process of composition through programming, carefully aligned with a constant relationship between three parameters - the cybernetical, the technical-physical, and the apperceptional. Among the most important of these efforts are Simultan, Makro, Infra, Tektra, and Scanning, the work before us at long last.
Other than a single festival presentation and a radio broadcast in 2004, this masterpiece has remained almost entirely unheard since its completion.
Scanning falls within Kayn's attempts to allow sound to be self-sufficient, stripping away notions of harmony, melody and rhythm, deploying complex networks of electronic devices - early computers, to follow his instructions, taking form through a system of signals and commands. While rigorously intellectual and rich with challenging ideas, what rises to the surface is the unavoidable humanity of each of the work's 24 moments - an illumination of his inquiries after the balance between the "resilience and instability of an oscillating system".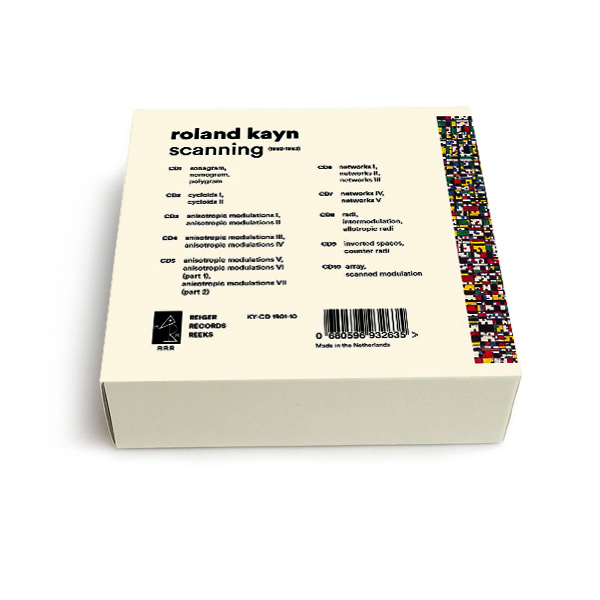 Each a carefully calibrated blanket of sound, falling within an undefinable, liminal expanse between shimmering harmonic ambience, and raw droning distance, where even the most subtle shift trigger movements on the monumental scale.
An image of the future, rocketing forward from the past, it's justifiably impossible to do justice to the scope of Kayn's Scanning with words. It's an immersive world, entirely its own, easily to be regarded as among the most important of his career, now able to be heard almost for the first time. As essential for fans of electronic and electroacoustic music, or the 20th century avant-garde at large. Clocking in at 10 hours, this unique 10 CD box of recordings made between 1982 and 1983 is just about as good as they come.
It's going to fly, so don't wait around.