"With the reissue of the Miles Davis' Birth of the Cool sessions, accompanied by recordings of this seminal nonet's slightly earlier live dates at New York City's Royal Roost, we now have as complete as possible an account of this still fresh sounding and beautiful music. The array of talent alone is startling: Miles Davis in transition between his earlier bebop stylings, and his later gorgeous tone and sparer choice of notes; Lee Konitz on alto sax playing startling melodic inventions which he would subsequently abandon —of his playing at the time, he later said that he didn't know what he was doing; pianist John Lewis still bopping but also finding an arranger's touch years before the Modern Jazz Quartet would become his instrument; this same touch in the hands of Gil Evans and the fluent baritone saxophonist Gerry Mulligan likewise bringing a striking set of colors to the charts, a whole post-bebop aesthetic; fluid trombone from Kai Winding and J. J. Johnson; propulsive drumming from Max Roach, a more relaxed beat from Kenny Clarke.
The live dates, which have circulated previously in various forms separate from the recording sessions, are sometimes a bit ragged, but they hold up anyway. There's nothing very startling here for anyone acquainted with the more polished official recordings, but it's a pleasure to hear more solos from Lee Konitz, Miles Davis, Gerry Mulligan, John Lewis, solos which sometimes bear a distant but evident relation to the more familiar, more widely available ones.
The sound is better than I expected, bearing out producer Phil Schaap's contention that these are on-site recordings rather than broadcast piracies. The live dates also provide the opportunity for some lively reminiscence in the form of a liner note by writer Michael Zwerin, who played trombone on them.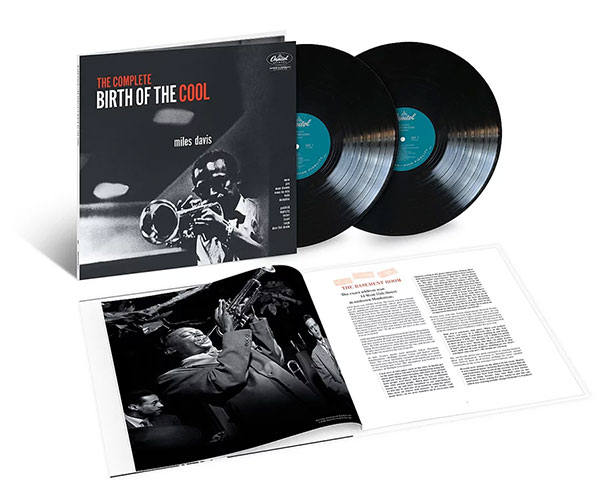 What more can be said about the studio dates? They were very much of their time. Some of the same sensibility, harmonically adventurous but more emotionally relaxed than the still contemporaneous bebop, shows up in the sextet recordings of Lennie Tristano, which also included Lee Konitz. All these players had cut their teeth on bebop, and Davis, Lewis, Johnson and Roach had all recorded with Charlie Parker. The bebop sensibility shows up in their chromatic harmonic sequences, their relaxation at relatively fast tempos, and in the choice of a tune like Budo. The ballads don't have the sugary lushness of the Claude Thornhill orchestra where some of the band's ideas and personnel originated; instead they communicate a spare, modernist feeling.
This is particularly apparent on the second live Moon Dreams, an especially lovely composition which here seems to function as the backdrop for much conversation, somewhat audible under the music. It's like the soundtrack for a movie, with the crowd talking on in willful ignorance of the poignant moment that they are missing. Thus did the original sessions, retrospectively titled The Birth of the Cool in the mid-1950's, come to bring the light to a whole generation of musicians who were looking for something less driven than bebop, more relaxed, and suitable for players who weren't improvisational geniuses like the leading boppers —Bird, Diz, and Bud Powell. But you can't charge that influence against the account of these wonderful and passionate performances, which retain an authenticity derived from their creation of new forms, even while their imitators have long since passed." - Larry Koenigsberg