The 4th album from the band that I consider to be possibly the finest Italian progressive rock band of the 1970's, & certainly a band in the top tier of all early 1970's progressive bands worldwide! Area combined jazz/rock/stolen ethnic music (mostly from Eastern Europe and the Middle East)/the avant garde and more. Superb playing from all (vocals/organ, guitar, electric piano/synths, bass & drums). This includes a thick booklet with rare photos, notes, etc. While everyone shines, the vocalist, the late Demetrio Stratos is rightly one of the legends of 1970's music.
"According to classic 1970s dictums, 1975's Are(A)zione is a "live" record by Italian vanguard progressive rock group Area. Taking one song from each of its four previous albums (recorded at as many festivals) and adding a complete freakout on the title track for over 15 minutes, the band nonetheless gives the impression that this is from a single performance. Area's energy and intensity were unequaled by anyone on either side of the Atlantic -- rumor has it that Emerson, Lake & Palmer, who headlined a gig in Italy, wouldn't come onto the stage for a full two hours because they didn't want to follow the band that had driven ELP's crowd intro a frenzy. Everything that makes Area special is in abundance here: lightning quick directional and time changes ("Cometa Rosa"), astonishing improvisation ("Are(A)zione"), harmonic invention thought impossible for rock bands ("La Mela di Odessa"), intricately woven folk melodies that give way to sprawling free jazz jams ("Lugglio, Agosto, Settembre"), and vanguard free associative experimentalism laced with over-the-top lefty politics ("L'Internationale"). And while the aforementioned examples are used for quick reference, virtually all of what Area does, especially in these live settings, occurs in each and every song. On this set it becomes very obvious just how special vocalist Demetrio Stratos was. Many credit his importance in the development of vocal strategies and approaches to improvisational and compositional work to his work after leaving the band, but virtually all of it is in evidence here: cascading sounds stretched across three octaves, ululating inconstant and vowel sounds through blurs, and gathering sonic vibrations from the wells and caverns of the body itself for expression. This is as good a place as any to start with Area, and in some ways tells the Area story even better than the band's studio albums." AllMusicGuide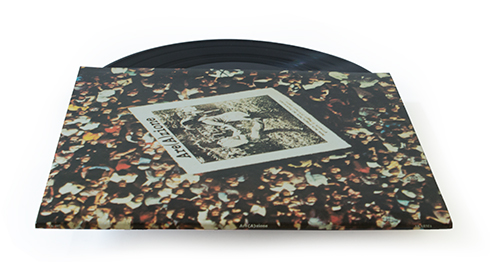 This was the only live album released in their lifetime, and it's an amazing disc even over 25 years later - excellently recorded and with incredibly hot versions of some of their best material. And when you hear keyboardist Patrizio Fariselli eat an apple on mike in the middle of "La Mela Di Odessa", I hope you will agree that it's one of the great moments in recorded progresive rock history.