Last copies! This rare album was recorded as part of the legendary prescription label album series in the late 1990's. Coil were invited to record at sun dial's studios beneath the London Bridge Hop Exchange. This studio was originally know as Samurai studios that was originally built and owned by Iron Maiden. The premises in Victorian times was an old debtors prison which had three levels underground, and still had the original chains, manacles and wrought iron doors from the old prison. This caught the attention of John Balance and was very keen to record there.
At Gary Ramon's invitation, Coil spent a number of days recording at the studio during Halloween 1998 and they developed a number of tracks some of which resulted in this LP. The other material has remained unreleased - however we hope to bring them out one day. Ramon produced and mixed the "Astral Disaster" recordings, as well as playing guitar and sitar on these sessions. The original album was issued on Prescription in an edition of 99 signed and numbered copies, which are long time sold out. Originals fetch £700+. This is the first time the album is being reissued officially since 1999.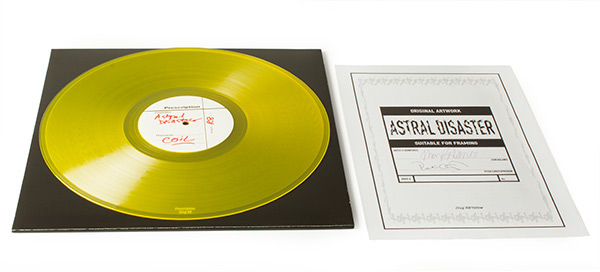 A version of this album was later remixed by the band and released on their own label, however these Prescription mixes are unique to this first release of "Astral Disaster". Taken from the original masters this album comes with original sleeve artwork, insert and facsimile signatures of John Balance and Peter Christopherson that came with the first issue.
"If there's any one big reason you need it, though, that would be the amazing B-side, The Mothership and The Fatherland, framing creaking wooden drums and the gibber-chin shivers of swarming, translucent studio duppies in a diaphanous soundfield of freefall ambient atmospheres - basically the sound of ketamine in the '90s. Makes us want to melt. Massive recommendation!" Boomkat