Commencing
Label: Miasmah Recordings
Format: 5 x LP box
Genre: Experimental
Out of stock
Just arrived!! Leicester, England -- mid-1990s. Aaron Moore, Nick Mott, Clarence Manuelo, and Daniel Padden create a freeform group called Volcano the Bear out of their frustration with standard musical limitations. Now, in 2015, after 20 years of experimenting with improvisation, folk, Dada, post-punk, krautrock, noise, surreal comedy, pure avant-garde, and more, the group has obtained a cult following and high critical praise across the globe. Renowned for their highly theatrical and obscure live performances, as well as their mind-blowing catalog of releases, Volcano the Bear truly is a one-of-a-kind group, consistently pushing forward with their own unique, experimental approach to sound making. Commencing manages to be both a retrospective of the group's 20-year history since their formation in 1995 as well as its own unique release filled with vast amounts of material. The five LPs presented here, each in individual covers with liner notes for each track on the back and housed together in a deluxe silkscreened box, contain 64 tracks and clock in at over four hours in length. Expect an abundance of previously unreleased material, alternate versions, tracks from early cassette albums never before released on vinyl, live recordings, pieces from forgotten compilation appearances, and more, all mixed and compiled together to form five standalone albums.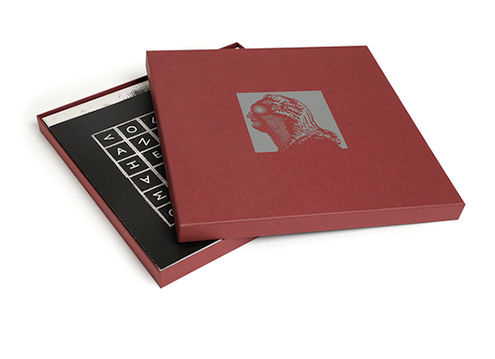 The set also includes a 50-page book of writings, photos, artwork, and flyers from the band's long history, along with a download code for the complete set plus a bonus album of ten tracks that didn't make the final cut. This is the ultimate Volcano the Bear release for fans of the group and of surreal, experimental musical history in general. "Listening to the wealth of mainly unreleased and live material presented here, one's mind boggles at the wonderful, extraordinary and frankly bizarre pallet these guys have to offer. They take us on a sure fire journey into some of the most healthy and unambiguous, crazed and deadly, astonishing and timeless music to push our pleasure buttons up to 13!" --Steven Stapleton, Cooloorta, May 25, 2015
Cat. number: mialp 032 box
Year: 2015
Notes:
5 LP Box with book and download code.