Golden Cup's new LP is a concept album about the times to come. How will be our life in a future that is constantly accelerating its time, deleting the distances between different cultures?  Luca Massolin's 'Utopia' is a city in Mediterranean Europe, where North African and Eastern traditions meet with Western (sub)culture. Using elements of Minimalism, psychedelia, sampling and electronic experimentalism,'Futura' tries to define a reality in which technology and nature can live in harmony.
The beautiful cover artwork provided by designer Al Porta (responsable for most covers of legendary italo-disco project Koto), gives a wonderful complement to the listening of the whole work.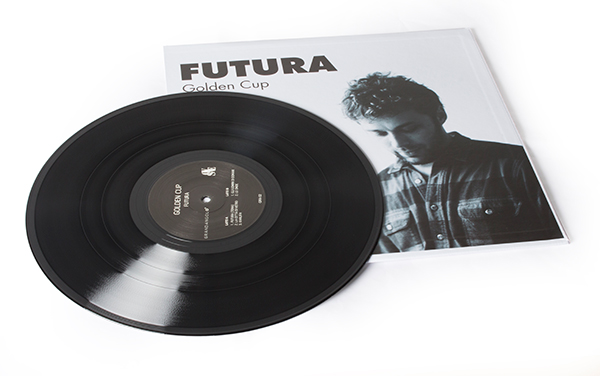 Luca Massolin is an active figure in the young generation of outsider musicians. Born in Italy, he is now living in Portugal. His sound is focused on string instruments (guitar, bass, mandolin), voice and analog electronics. He is constantly encouraged by his fascination for the work of the early electronic music pioneers, early '70s guitar rock as well as cosmic improvisation, minimalism, and free jazz. In his solo recordings and live performances, as well as his involvement in Golden Jooklo Age and Neokarma Jooklo Experience, he developed a personal sound focusing on the power of music to create images and visions. His efforts as a band member and solo artist have been documented by labels such as Qbico, Digitalis, Backwards, Troglosound, Peasant Magik, Utmarken, Holidays and his own 8mm imprint.

Massolin has had intense non-stop live activity, performing in 20 nations across Europe, Middle East Asia and the United States, playing music on stage and in the studio with artists like Anla Courtis, Peaking Lights, Takeisha Kosugi, John Paul Jones, Sonic Youth, Sachiko, The Merce Cunningham Dance Company, Stefan Neville. Since 2002, he hasrun his record label 8mm Records, focused on limited editions of free improvised and obscure underground music from all over the world.