The two groundbreaking Anthony Moore LPs in bundle at a special price. **500 copies** Over the last few years, we've seen countless reissues emerge with the branding of "holy grail". Some have deserved it, other have not. Needless to say, here at SoundOhm, we're increasingly wary of throwing these words around, but the two albums before us, Anthony Moore's Pieces From a Cloudland Ballroom, from 1971, and Secrets of the Blue Bag, issued the following year, deserve them with little doubt. Creative marvels which earned coveted spots on the second installment of Alan Licht's Minimal Top Ten series, sending collectors scrambling through bins for scarce copies, they are among the most beautiful records that few ever heard. British experimental musician and composer, Anthony Moore, has, for roughly half a century, carved an unexpected path through the wilder territories of organized sound. A student of Indian Classical music, who founded the legendary ensemble, Slapp Happy, worked with Henry Cow, Kevin Ayers, and Pink Floyd, the quiet build of his legend grew from two albums produced for Polydor, while he resided in Hamburg, Germany, at the outset of the 1970s.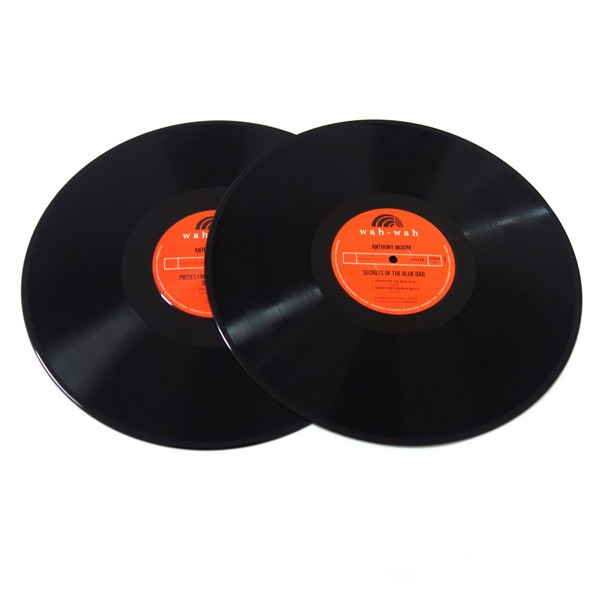 The first of these, Pieces From a Cloudland Ballroom, remains one of the great, early examples of the movement of European Minimalism which sprang up in the wake of its American counterpart, taking the music into far flung and often unexpected new realms. Almost entirely overlooked until it was included within the second of Alan Licht's seminal Minimal Top Ten lists, its presence there, with the fact that it rests among the earliest of all the entries - two years before Charlemagne Palestine's Four Manifestations on Six Elements, one before Tony Conrad with Faust's Outside the Dream Syndicate, one after Steve Reich's Four Organs / Phase Patterns, two after La Monte Young's The Black Record, and only five after the movement's earliest landmark, Terry Riley's Reed Streams - offers a crucial sense of understanding of context and approach. When compared to what was transpiring within the broad context of musical Minimalism, it is out on its own and ahead of its time. Within its own, it's unquestionably visionary and unlike anything else. Across the two sides of Pieces From a Cloudland Ballroom, we hear the emergence of an entirely different vision of Minimalism, running parallel, with its own distinct set of creative values, from its dominant American peer, laying the groundwork for so much of what was to come. The album's first work, the side long Jam Jem Jim Jom Jum, for three voices underscored by a piano tone, unfolds as a chanting, hypnotic, and almost a primal expanse of sound - natural, organic, and imperfect, as though it belongs to the root of music itself, simple and perfect in every way. Fascinatingly, while entirely distinct within the history of minimalism, it unmistakably foreshadows elements of Philip Glass' approach to the human voice which would emerge years down the road. On the second side, we encounter two equally remarkable works - Mu Na H-Uile Ni A Shaoileas and A.B.C.D. Gol'Fish. The first presents a shimmering pallet of shifting structures, rendered by bowed strings and a plodding piano line - fragile, exact, and unlike almost anything in the history of the movement to which it belongs, while the album's final work blends a pop sensibility otherwise only witnessed in the work of Brian Eno and John Cale, with the metronome of Steve Reich, creating a joyous, hypnotic explosion that lingers, long after the album's close. An albums which has melted the brains of almost every fan of Musical Minimalism, this is the first vinyl edition to emerge in nearly 40 years.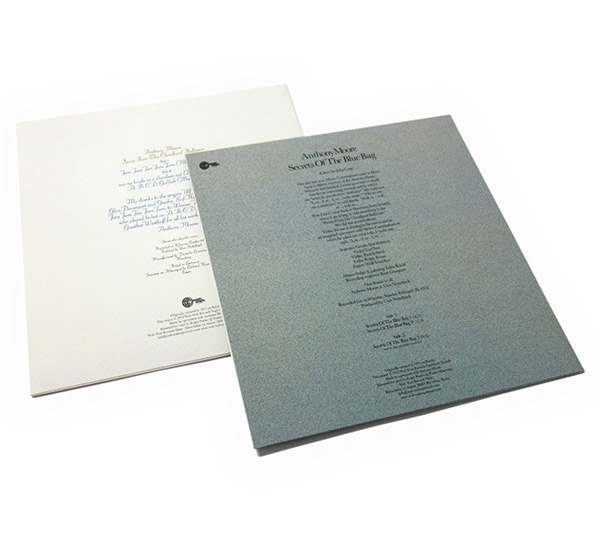 Moore's second solo LP, Secrets of the Blue Bag, was issued in 1972 but recorded in the Fall of 1971, shortly before his band, Slapp Happy, entered the studio, backed by Krautrock pioneers, Faust, to record their first album. As such, both standing outside and ahead of time, as well as its being very much a product of the writhing and adventurous German scene of its moment, it appears before us as an unquestionable marvel of experimental creativity. Secrets of the Blue Bag, features Moore, joined by an ensemble of soprano Geeske Hof-Helmers, violinists Toni Sen and Patrick Strub, cellist Rolph Braun, and Wolf Schreiber on fagott (bassoon), sculpting a sonic pallet which more closely aligns it with chamber music, rather than with the wilder realms of experimental music which were boiling around its creation. A work of remarkable beauty and restraint, fans of Minimalist music will be quick to hear it's connection to Philip Glass works like Music in Twelve Parts and North Star, keeping in mind that these sounds were recorded five years or more before either was to emerge, proof of how ahead of its time Secrets of the Blue Bag was. Divided into three long form movements, the album eases forward through a slow building interplay of repetitive, cycling and conversant lines on string and reed instruments, as well as voice. Hypnotic, immersive, and creatively visionary, it draws the ear into a realm which few had explored before, elegantly proving that less is more. A remarkable missing link between European Minimalism, chamber music, and the British "art-rock" and the German "krautrock" scenes, this one stands outside of time. One of the great records of the 1970's, finally reemerging on vinyl for the first time in decades in a limited edition of 500 from Wah Wah. Like Moore's Pieces From a Cloudland Ballroom, it's absolutely essential and not to be missed.