The briefest encounter with Sandro Mussida's latest release - Ventuno Costellazioni Invisibili, leaves the ear wondering why its creator is not more well known. It is a stunningly beautiful work. Mussida is an Italian born, London-based composer and cellist, who also works within the filed of electronics. Over the years he has performed and written extensively within orchestra, chamber, and solo instrumental contexts, as well as working with Oren Ambarchi and Mark Fell. His composition In Memoria, also notably graced the first side of Alessandra Novaga's brilliant Movimenti Lunari, released by Blume last year. Mussida's work centres around the consequences of compositional choices on musical matter, and questions surrounding the identity of musical languages and traditions. A bubbling conceptualism in sound, which has brought Ventuno Costellazioni Invisibili into the world.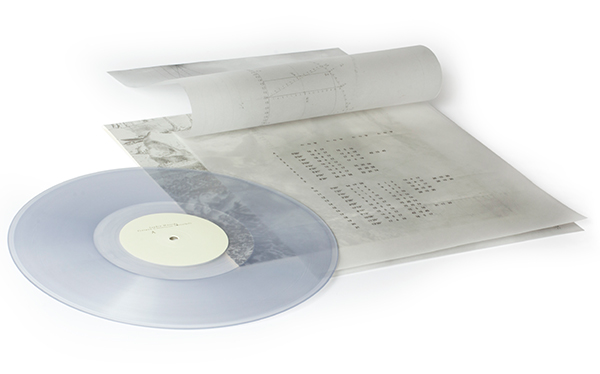 Ventuno Costellazioni Invisibili, a composition for violin, flute, clarinet, electric guitar, piano, percussion, and computers, was realized by an ensemble made up of Enrico Gabrielli, Yoko Morimyo, Susanne Satz, Alessandra Novaga, Giulio Patara, Sebastiano De Gennaro, Giovanni Isgrò and Mussida, during the Spring of 2015. Presented in two distinct realisations on each side of the LP, it is a work defined meditative depth and space, built from a focus on transfiguration of perceptual time – pitches played at different speeds, musical cells generated by the rotation of triangular figures distributed in time and space. The result is a sonic world of startling intricacy and beauty – one marked by the same openness, experimentation, and elegant restraint, which has long been the hallmark of the Italian sonic avant-garde. It is a near perfect image of minimalist Classical music blowing off the dust, shedding the past, diving toward countless optimistic possibilities of what it may become. It's rippling sonorities, the inheritors of the ground once sketched by Franco Battiato and Giusto Pio, taking a radical step into the unknown. 

One of the most elegant and beautiful albums we've heard all hear, made all that much more thrilling by the diversity and possibility, presented by the differences between its two sides.
Ventuno Costellazioni Invisibili is presented in a limited and numbered edition of 300, with artwork by Mark Fell, a digital binaural download which slowly rotates through the piece, two visual works by visual artist Rebecca Salvadori, and an original print of the score on transparent sheets of acetate paper. We can't recommend this one enough