** in restock now, will ship on Tuesday** This entrancing 1983 recording by the legendary Fluxus artist Joe Jones is a must-have for anyone who picked up last year's vinyl reissue of the seminal 'Solar Music At Sierksdorf' once again showcasing a gauzy and cloudy shimmering wash of faux-gamelan, hums and whirrs, tribal percussion and homemade ethnodelic fantasies.
On 26 June 1983, Joe Jones set up a solar orchestra in Erik Andersch's garden in Düsseldorf, North Rhine-Westphalia, Germany. Guests were invited for a dinner party to listen to the orchestra. The music was recorded and the event documented by various photographs that were published as a book by Jones in 1987 in an edition of 15 copies. The audio recording remained unreleased. This edition brings together the recording and an A4-sized reproduction of Jones' book. It is presented in a gate-fold PVC sleeve. Right-hand side holds the LP, left-hand side holds the book, a poster, and a postcard. Edition of 200.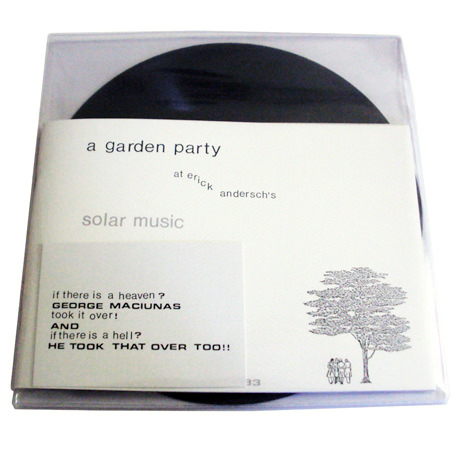 Joe Jones was one of many artists associated with Fluxus, a free-form movement of avant-garde musicians, artists, writers and performers that began in the 1960's. He first started experimenting with mechanical instruments in 1962, creating objects like musical boats, solar music umbrellas and a pedaled vehicle that pulled handmade instruments on wheels. In 1969, he opened the Music Store, a shop in which music machines inside could be operated by pushing buttons outside, and where Fluxus events for Yoko Ono and John Lennon took place
.
.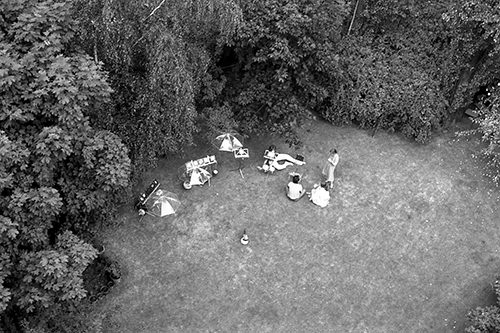 .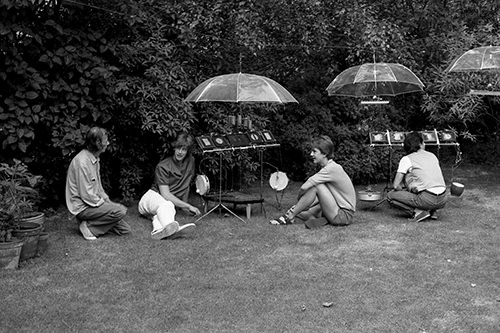 .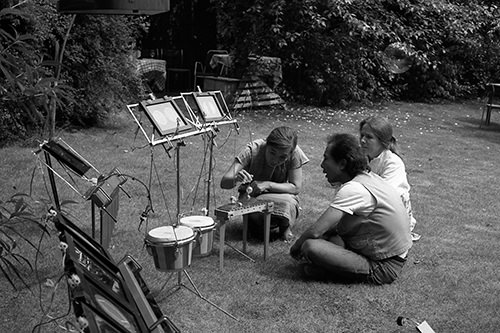 .