Best of 2016
Il Deserto / Pittura Contemporanea / Moderna N. 1 & 2 (3xCD Box)
Label: Cinedelic
Format: 3xCD box
Genre: Library/Soundtracks
Out of stock
**Lavish 3 CD box set in bespoke packaging, collecting the Egisto Macchi's recent and almost instantly sold-out LP releases by Cinedelic, housed in a canvas covered outer box ** Cinedelic has thankfully made a very limited run boxet in 300 hand-numbered copies, that brings together "Il Deserto" , "Pittura Contemporanea" and "Pittura Moderna n. 1 and 2." Now, taken as a whole, this set is wonderfully consistent, a comprehensive collection of the best material by the legendary Maestro!

Released in the midst of a repertoire of early '70s intense library production that stretched Egisto Macchi's compositional mastery in a multitude of contexts and styles, it reveals another step forward into the extension of his signature spacious drone compositions, being plenty of hauntingly, beautiful piano work  and prominent use of strings used in in a rhythmical, percussive manner.  It's impossible to sum up the wealth of sounds inside - ranging from ritualist meditations to haunting dronescapes, always allowing each unique sound to grow and travel uncluttered through time and space.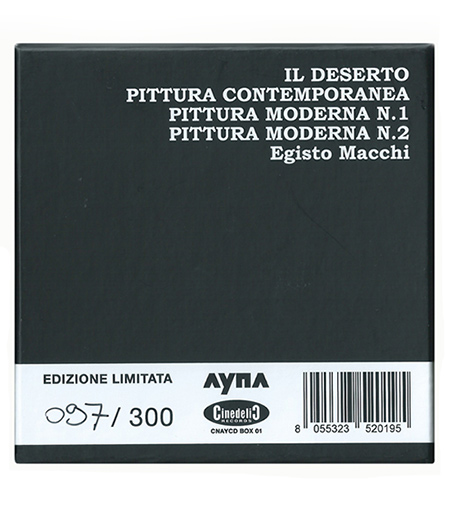 Macchi's work in the '70s was mainly dedicated to experimentations in library music and film scores. Some of his most noteworthy soundtracks from this period, including those presented here, were released on the Ayna label, which gave him full artistic freedom.
Cat. number: CNAY CD BOX 01
Year: 2016