Best of 2016
Pittura Contemporanea / Moderna N. 1 & 2
Label: Cinedelic
Format: 3xLP Box
Genre: Library/Soundtracks
Out of stock
** restocked, very last copies, sold out at source ** 3xLP housed in a luxurious hard cover box with canvas painting cover + 600 handnumbered copies only, get it before it's gone! Another production library rarity getting its first ever commercial release via the reissue masters at Cinedelic. The original analogue tapes have been upheaved and remastered so these stewed, rumbling  compositions can be enjoyed and appreciated in all their original glory.
Released in the midst of a repertoire of early '70s intense library production that stretched Egisto Macchi's compositional mastery in a multitude of contexts and styles (but always infused by his avant-garde magic touch), this incredible box set truly is a haunting, intense gem! Originally produced exclusively for use by film and TV studios and never commercially released, it reveals another step forward into the extension of his signature spacious drone compositions, being plenty of hauntingly, beautiful piano work  and prominent use of strings used in in a rhythmical, percussive manner. Bringing modern and contemporary Painting as thematic concept displayed in a manner that seeks to make and encourage new connections and interpretations, Pittura Contemporanea and Moderna is an eclectic blend of gauzy textures and rhythms, a fresh reconstruction of his unique musical style and personal influences.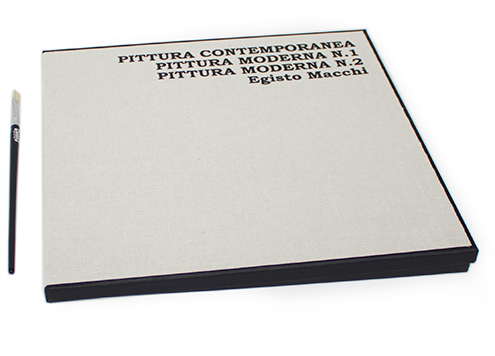 For those unfamiliar with his work, Egisto Macchi was a legendary Italian composer of dark avant-garde and musique concrète library music. Former member of Gruppo di Improvvisazione Nuova Consonanza, Macchi once again brilliantly combines dark, unnerving and broken electronic sounds with abstract traditional musical instrumentation. Foreboding violins, droning electric guitars, Disturbing sounds effects, such as knocking upon a wall, screeching metal, howling winds, shrieking animalistic sounds and strange voices are implemented to enhance the unnerving atmosphere.