Restocked, reduced price. Bubbling below the surface of the sonic avant-garde - spanning art and music, lays the rarely observed context of the Artist Record - a field of recorded sounds stemming from, or attached to, the environments of fine art. Though expansive, elastic, and at times difficult to define, the largest body of its artifacts have been made by artists who are known for their work in other media - painters, sculptors, etc. These thrilling experimental gestures, draw on ideas which are largely absent from the framework of music. Pushing forward and breaking ground, they are among the purest sonic realizations of the spirit of the avant-garde.  Across the 20th century, a slim vanguard of fine artists enthusiastically attacked newly emerging media - moving away from the comfort zone, while capitalizing on the specific potential of each. Enabled by new technologies, beginning with Marcel Duchamp, Kurt Schwitters, the Italian Futurists, and slightly later, figures like Jean Dubbefet and Henri Chopin, the fields of sound art and artist's music were born. Though output was relatively slim across its early years, during the 1960's, the territory exploded in the hands of Fluxus and Conceptual Art, with artists like Walter De Maria, Bruce Nauman, Joseph Beuys, George Maciunas, Alison Knowles, Dieter Roth, and countless others, wading in. Slow to take hold and find acknowledgment, beginning in 1969 with the Art By Telephone exhibit at Museum Of Contemporary Art in Chicago, an effort to display, collate, and highlight these new works began to emerge. With the LP that was released to accompany that exhibition, the Sound compilation which was released via the Los Angeles Institute of Contemporary Art, and the Airwaves compilation, Revolutions Per Minute - the realization of an exhibition at Ronald Feldman Fine Arts in New York during 1982, is among the most important artifacts in the field.

In itself, the Revolutions Per Minute exhibit was revolutionary. With the exception of a display of proposals by the artists for possible covers, the record was the show - offered to viewers through headphones. As such, it travels through the decades complete and untouched - still defying the very idea of the object and commodity as it's understood. The album is composed of twenty one works by a stunningly diverse range of artists - from R. Buckminster Fuller, Joseph Beuys, and Terry Fox, to Hannah Wilke, Chris Burden, William Burroughs, and beyond. Extending across four sides in marvelous and chaotic glory - enveloping a stunning array of source, idea, and result, it feels as radical as it did the day it emerged.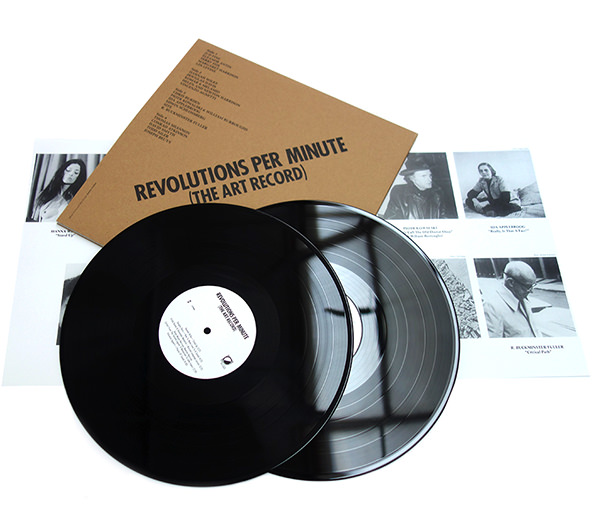 A stunning slice of art and sound as its rarely heard,  Song Cycle's release of Revolutions Per Minute - made in collaboration with Ronald Feldman Fine Arts, is the first time the album has been reissued in any form. A brilliant bridge between fine art and avant-garde sound, this is an adventure and revelation not to be missed.