The fist ever Brainticket box set featuring 4 discs of these krautrock genius's critically adored early '70s albums plus rare singles and live recordings, some of which have never been available on the commercial market – until now! Packaged in a sleek box with full liner notes, a 50+ page color booklet, poster, button and more!
An over 4 hour mindtrip into electronic space-scapes: the first CD includes the first Joel Vandroogenbroeck's Brainticket album, Cottonwoodhill, and a second album by a band called Drum Circus that Joel participated in. Headed up by German drummer Peter Giger, Drum Circus included two other drummers plus Joel on organ, piano, flute and sitar. Released in 1971, the same year as Cottonwoodhill, Magic Theater is the sole release by Drum Circus and while understandably percussion heavy, it's not all that far off from the spirit of Brainticket. The highlight is the side long title track which transitions through a sometimes confusing array of themes, though the strong parts are tasty indeed, especially the Brainticket-like narrative segments and tripped out ragas.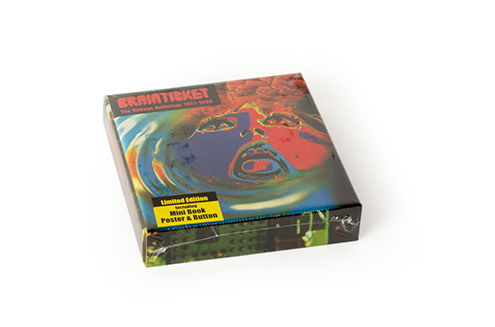 Disc two includes the second two Brainticket albums, Psychonaut and Celestial Ocean. The bulk of disc three is made up of Biomechanoid, a 1980 album that is one of the recordings Joel made for the Coloursound Library label. Inspired by the paintings of the great Swiss artist H.R. Giger, Biomechanoid is an intriguing set of spaced out soundscapes and ambience, intense orchestrations, and avant-garde sound sculptures. When I asked Joel about this album he explained: "I did an album of music inspired by Giger, who made Alien. He wanted music for a movie about his work and he asked me to do the music. I knew him very well. From this I was inspired and made an album for the Coloursound company." Rounding out disc three are two lengthy excursions that were bonus tracks on the Purple Pyramid/Cleopatra reissues of the two early 80s Brainticket albums, Voyage and Adventure.
Disc four may well be the holy grail bonus for fans of Brainticket and Joel Vandroogenbroeck's history. The first part of the CD consists of a live Brainticket performance in Rome from 1973. Even Joel didn't know these recordings existed. The sound quality is pretty good and features songs from the albums of that era, interspersed with much of the improvisation that Joel emphasizes was so much a part of the Brainticket live experience.