Two long tracks from reknowned sculptor Walter De Maria featuring a tribal drumming pattern and the sounds of nature. The two pieces included were originally recorded in 1964 and 1968. Produced by Estate of Walter De Maria in association with Gagosian Gallery in 2016. In the case of Walter De Maria, a seminal figure in the history of environmental art, these recordings from the 1960s signal the role of sound in his early practice. Cricket Music (1963) and Ocean Music (1968), were made during an important period in De Maria's artistic career: a shift from sculpture to environment, and from white cube to earth. By recognizing the role that sound played in this transition, we begin to reclaim an overlooked (and under-heard) history of sound in conceptual art, one that analyzes the relationship of sound to site, and the sonic paradigm of site-specific installation.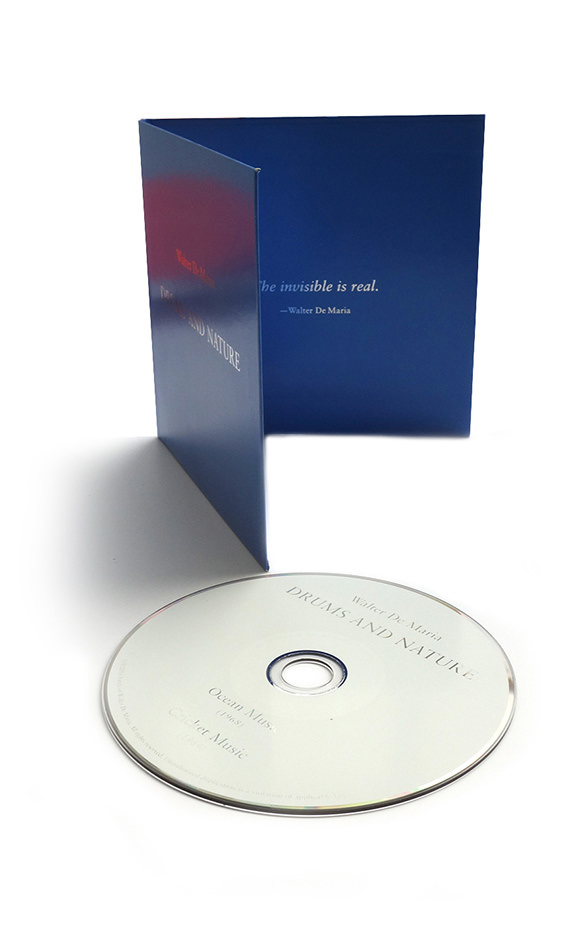 Cricket Music was originally recorded in 1964, overlapping with De Maria's nighttime rock and roll career, and as such can be thought of as an exercise in rhythmic repetition. On its surface, Cricket Music operates somewhere between the incessant drones of La Monte Young and the minimal compositions of Steve Reich, only changing slightly over its twenty-four minute length. There is no real sense of composition—only what one might call a percussive presence; slight variations on a theme, or some sort of avant-garde vamping
.
Ocean Music (1968) functions as a reversal of Cricket Music 's compositional structure. In contrast to woodland chatter creeping into the recording mix, the piece begins with the slow swelling of ocean waves, which continue uninterrupted for nearly eleven minutes. At this point, De Maria's drumming comes into play, but it is slightly more arrhythmic than before, even a little erratic. Instead of the cool and steady "shuffling" (to quote David Grubbs) for which De Maria was then known, the recording pairs undulating waves with punk-prescient drum-fills, grounded in an unwavering wash of cymbal noise. If Cricket Music represented the assertion of nature over the artistic domain, then Ocean Music illustrated the opposite: the encroachment of art into nature, an aesthetic paradigm that De Maria, among others, explored throughout the 1970s (often under the rubric of earthworks and land art).
.
Notes
Tracklisting
There are no notes associated with this item
There are no tracklisting associated with this item