Privately issued by the artist in collaboration with alga marghen, "Running and Chanting and Falling and Ranting" is quite a unique book presenting Charlemagne Palestine complete video production. "Body Music I" (1973) and "Body Music II" (1974) were Palestine's first incursions into the video medium. They were followed, from 1974 until 1979, by a series of works that together form one of the seminal and most distintive bodies of conceptual, performance-driven video of that decade. As a composer, performer and visual artist, Palestine has gained international recognition for his influential music, sound compositions and performances across six decades. His psychodramatic video works of the 1970s, which are less well known, transform and extend his sound and performance art into the electronic medium. Throughout these pieces, Palestine activates ritualistic movements and vocal expressions (hypnotic chants, screams, keening wails) as outward articulations of interior states. The very titles of these fervent enactments suggest extreme physical and psychological catharses, release and escape.
 Palestine's video works of the 1970s are visceral, raw, urgent. While his video works must be seen in dialogue with Palestine's music and performances (his signature objects like stuffed animals, cognac, scarves appear across media), they also speak to the specific conditions of early video art practices and the wider alternative art scene and countercultural sensibility of the era. Palestine's unruly, unpredictable performance videos emerged in the context of an equally unruly and unpredictable landscape of art making in the 1970s. As art practices moved away from object-making towards an emphasis on process, the prevailing discourses of conceptual art and post-Minimalism were manifested in the dematerialized gestures of Body Art and performance, and in hybrid forms such as installation, experimental music, expanded cinema, intermedia art, and video. The nascent video art scene was further cross-pollinated with generative ideas and influences that ranged from technology and television to cybernetic theory and political activism. The presiding spirit was one of experimentation, ad hoc and collective processes, and improvisation, a renegade ethos tracked in the decade's underground art from counterculture to punk.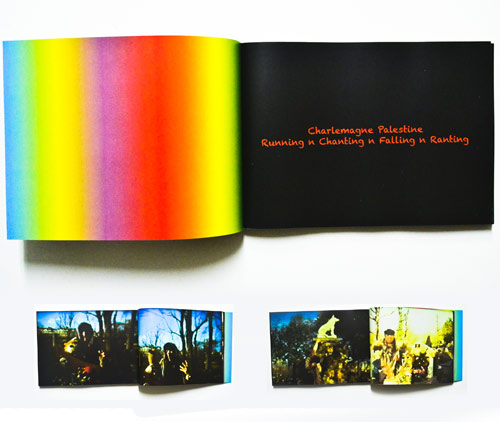 The book includes an essay by Lori Zippay titled "Body Music: Charlemagne Palestine's Video Rituals", a long interview by Serpentine Gallery director Hans Ulrich Obrist as well as a compact disc with the full soundtracks of "Body Music I", "Body Music II", "Island Song", "Running Outburst" and "Tying Myself Up".
Cat. number: cat No. plana-P alga044
Year: 2013