Alga Marghen proudly presents a new chapter in the documentation series of Charlemagne Palestine's historical works. This CD of previously-unavailable recordings not only presents you Charlemagne Palestine activities in 1974, collaborating with some of most important experimental artists and composers from either the New York loft scene and Cal Arts, but also features world premiere recordings of Terry Jennings and The Fundamental D Flat Group. "Short & Sweet" is the title of a breathtaking duo for piano and sax performed on April 24th by Charlemagne Palestine and Terry Jennings. The two composers happened to play together in very private concerts at Cal Arts, but never recorded those sessions, until a special day when Charlemagne happened to have a little tape recorder around. The recording was considered lost for more than 30 years, when finally a copy was found thanks to Tony Conrad.
Terry Jennings' soprano sax is very elaborated and decorative. Around 1967, Charlemagne was experimenting mainly with voice and electronics. He also occasionally recorded piano and sax improvisations with his friend Bob Feldman. This CD featured a very special duo by Palestine and Feldman playing electronics and flute. The two artists met in 1961 when Bob Feldman worked in a jazz record shop in the Times Square subway station. Palestine didn't know much about jazz and Feldman guided him through the new progressive jazz styles of the times. Later at the Intermedia Center of NYU where they had a Buchla synthesizer, Charlemagne and Bob Feldman experimented with jazz raga and electronics. Very little was recorded. This is one rare duet that dates probably from around 1967. The last track on this CD is the first 30 minutes of a recording from April 22, 1974 by The Fundamental D Flat Group performing in Db.
During one trip back to NYC from Cal Arts, Charlemagne Palestine was invited by Tony Conrad (together with Rhys Chatham) to Albright College in New Jersey for a Sunday afternoon concert.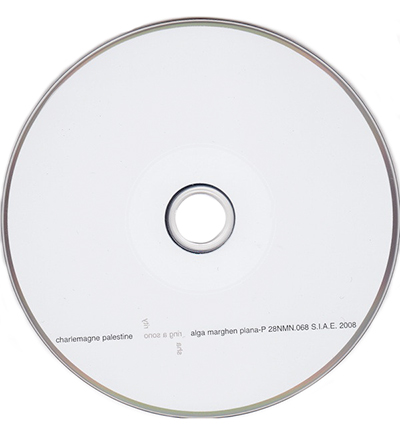 That was the first and last time The Fundamental D Flat Group played in public (Tony Conrad : violin, horn, string drone; Rhys Chatham: flute, organ, string drone; Charlemagne Palestine: voice, pipes, snifter). Although the piece lasted all afternoon, the first 30 minutes were the only portion recorded during the performance. The Fundamental D Flat Group invites you to listen and meditate in the mode of Db. To hear this is to enter the deepest realm of knowledge of the sound current. This CD is housed in a beautiful digipack with a full-color sleeve with photos and liner notes.
The edition presents some of the best recordings ever issued by Charlemagne Palestine, a highlight in the Alga Marghen catalog and a unique chance to listen to the core of Charlemagne Palestine.
Cat. number: plana-P 28NMN.068
Year: 2008
Notes:
Released in a Digipak. Track 1 recorded April 24, 1974. Track 2 recorded around 1967. Track 3 recorded April 22-23, 1974. Part 4 of The Golden Research (Charlemagne Palestine Archive Series). Edition of 1000 copies.