Fragments of Sound, Figure of Music
2013 Release. Kenichi Kanazawa held the exhibition "Oto no Kakera" ("Fragments of Sound') and "Workshop" at the Kawagoe City Museum between 2006 and 2010. At the fifth and final exhibition, he did a workshop and performance with Hiroyuki Ura and Shinjiro Yamaguchi. This performance consisted of some fragments, with Yamaguchi adding his own details. According to his explanation, he tried to capture an invisible figure of music through composition using simple rules and styles. Housed in a cardboard paper gatefold sleeve with newly-written liner notes in Japanese and English. Also includes a summary by the artist. Limited to 300 copies.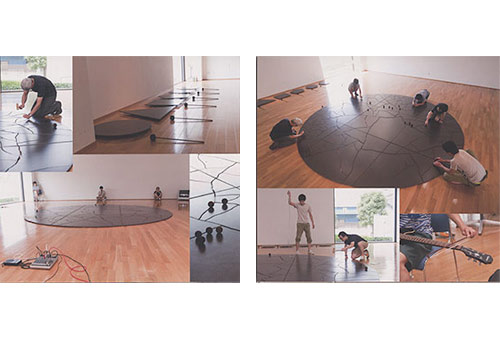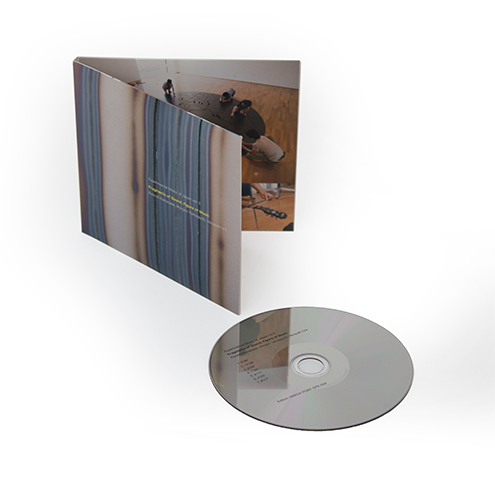 track 1: solo performance used self-made steel triangle instrument by Kanazawa.
track 2: each player plays sound 1 time at first 1 minute, plays 2 times at next 2 minutes, and it's continued until 12 minutes.
track 3: performance used five kinds of plate sculptures. they performed on the rule that each 2 members must not play in same time.
track 4: drumming and rubbing of Oto no Kakera 9 with electronic noise.
track 5: solo performance by Oto no Kakera 9.
track 6: drone sound performance used Vibratile shape - circle 1200 and Vibratile Shape - Square 1200.
track 7: improvisation used Oto no Kakera 9 determined to finish with succession attack by all players.