Exmagma's sophomore album, 1974's 'Goldball' grooves like Hendrix jamming with Miles Davis. 'Goldball' definitely is more accessible than the band's debut. Indeed, the spirit is rock'n'roll and the approach is improvisational. This vinyl reissue comes with a biography insert and a sticker.
"In their sophomore release, the Exmagma guys tend to slow down their penchant for fiery experimental jazz-rock as exposed on their debut album and move to a somewhat different strategy focused on varying demonstrations of energy ? this is "Goldball" in a nutshell. All in all, the creativity and dynamics remain unchanged, since Exmagma remains a solid ensemble where each piece of sound finds its proper place in an overall scheme. Sometimes I find myself regretting that the musical ideas don't get enough room for wider expansion, especially when enjoying the power delivered on tracks 2 and 3: I find myself wishing that the promising climaxes would eventually lead to frantic explosions of sound a- la Dzyan or Agitation Free... but well, what you hear is what you get and Exmagma is a band that on should not have anything to complain about. Additionally, band members have said in interviews that they were not too keen on showing off too much, so I guess that the time constrictions posed on this album's repertoire make sense. So, now let's take a look to the repertoire itself.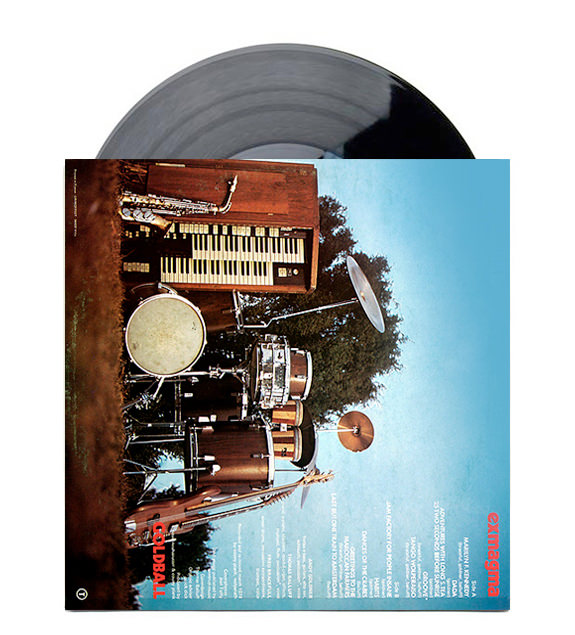 The half-funky jam that makes up the basis for 'Marilyn F. Kennedy' starts the album on a joyful mood before the progressive element gets augmented by the controlled mood shifts and polyrhythms delivered on the next two tracks, 'Da Da' and 'Adventures with Long S. Tea 25 Two Seconds Before Sunrise', in this way exploring the band's ability to provide density and sonic defiance. If the opener showed the band leaning toward the Canterbury factor, the other two numbers state a closeness to the avant- garde jazz ventures of Weather Report and Return to Forever, naturally ornamented with free-form sounds that were not rare in the overall krautrock scene.
Oh, by the way, Long S. Tea 25 was a nickname for good old LSD. 'Groove', while bearing a simpler framework, continues to retain the dense climate of the previous track, this time on a semi-slow soul tempo. 'Tango Wolperaiso' is a curious piece: all three musicians alternate their inputs through any turns, gradually making them fuller, in a sequence wrapped up by a funny chorale. 'Jam Factory (For People Insane)' returns to the complexity of tracks 2-3, only this time with a heavy emphasis on the psychedelic tradition (somewhere between early PF and early Gong), in this way becoming genuinely intense despite its not too frantic pace ? anyway, the percussive input is amazing. 'Habits' rounds like a mixture of "Yeti"/ "Tanz der Lemminge"-era Amon Düül II and Agitation Free, while 'Dance of the Crabs' brings a brief exercise on exciting jazz-rock. 'Greetings to the Maroccan Farmers' picks up the pieces of pure krautrock that 'Habits' had left scattered on the floor, glues them back in a clever utilization of improvised chaos, which clearly states a reference to the wildest side of experimental prog: Balluff's finesse on piano is outstanding, and so is Braceful's endeavor of tribal and cosmic cadences on his drum kit and other percussive resources. 'Last but One Train to Amsterdam' is another little jazzy piece that closes down the album on a Canterbury-friendly note: it wouldn't have felt out of place in a Hatfield or Caravan album, but in this case, it is an entertaining closure for yet another great Exmagma album. So, here we have "Goldball", a lovely example of the best legacy of jazz-oriented krautrock from the 70s." surfingtheodyssey