La Reine Des Vampires 1967 (Lp)
Label: Cacophonic
Format:
Genre: Library/Soundtracks
In stock
A previously unreleased haul of compositions by French avant-garde musician François Tusques (who released a legendary Futura label LP in 1971, as as the cult "Intercommunal Music" on Shandar). "I remember that around the time I first encountered the world of Jean Rollin I had been hired by Barney Wilen who wanted toperform my compositions, with Beb Guérin on double bass and Eddie Gaumont on drums. My friend Jean-Denis Bonan was in charge of editing Rollin's debut feature film La Reine Des Vampires and had approached me to compose the original soundtrack, for which I was to have free creative reign. I was 29 years old. For the recording I hired Barney, Beb, Eddie and Jean-François Jenny-Clark and I began by devising some music on piano for the film. Firstly, I remember recording the main theme as a duet with Eddie on violin which would lay the basis for more improvisations in the spirit of the movie. I also remember recording a selection of experimental themes which have since been lost. These first recordings were used to direct the collective improvisations by Barney, Beb, Eddie and JF. During the session I gave the separate musicians headphones and played them my music and asked them to interpret the atmospheres and various movements I intended to work with. In the end, my piano tracks (from which the music originated) would disappear like a ghost and all that would remain was the musicians' new interpretations. But are we really supposed to trust our own memories?" - François Tusques.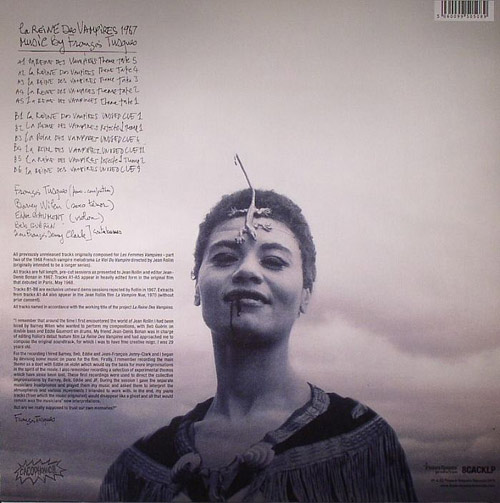 As a central figure of one of Europe's most vibrant inter-communal music movements, Francois Tusques' involvement as a central figure in the French free jazz scene (alongside Barney Wilen, Jean-François Jenny-Clark and Jacques Thollot) is as indispensable as it is synonymous. As a wholly improvisational live music entity running simultaneously (at times pre-emptively) to its early 60s American counterpart, this self-styled music revolution remained truly independent, both creatively and logistically, rendering original physical audio documents virtually unobtainable, save the few vinyl mementoes which cross human hands for hefty bounties beneath counters of record fairs before reaching the electronic auctions. As the first release in a series of long overdue reissues and vintage archival debuts Cacophonic Records present this previously presumed lost unreleased studio session from 1967, which sees the cross-pollination of two of France's most exciting counter- culture families, combining the open music of Tusques and the moving image of experimental horror director Jean Rollin.

Originally conceived as an ongoing series of surreal / comic book style film or TV episodes fusing Rollin's past experiences with illustrators like Nicolas Devil / Philippe Druillet and Tusques' groundbreaking avant-garde credentials this cinematic debut for both parties commenced in 1967 under the working title 'La Reine Des Vampires' before being distributed and commonly (inaccurately) recognised as 'France's first vampire film' under the title 'Viol Du Vampire'.

Staying faithful to the project's original title and intention this dedicated audio release hears the original unedited performance in its original form before Rollin's sound editors got to work with their ruthless tape splicers, dialogue synchronisation and recycling tactics.

'La Reine Des Vampires' features an all-star line-up of Barney Wilen, Jean-François Jenny-Clark, Bernard Guerin and Eddie Gaumont, assembled by Tusques in the same months that followed the important manifesto of the avant garde that embossed the group's name on the French musical map. This advent collides at the exact point where Rollin (as an erotic writer and avant garde theatre patron) first committed his filmic experiments to feature length celluloid, proving this previously unheard artifact to be a significant landmark at the start of both a controversial cinematic legacy and a genuinely experimental domestic music career (watch this space) that immediately went on to magnetise the likes of Don Cherry, and Archie Shepp and Sunny Murray in the following year. Remastered from Tusques' very own studio master tapes, and including an extra lost bonus track from his personal 'work in progress' Ferrograph dubs, this LP not only includes the unedited soundtrack source material but also compiles a number of high quality studio demos originally turned down by Rollin in 1967.

The approved themes found on the A side of the record were also rearranged and edited for the soundtrack for Rollin's second feature film 'La Vampire Nue' without Tusques' prior consent, providing an extra twist in the tale and instantly giving this first time release a technical 'double soundtrack' status.