Ennio Morricone has produced masterpiece after masterpiece, but none so creatively unsettling as his score to the 1971 Lucio Fulci giallo, "Lizard in Woman'€™s Skin€ (aka Una Lucertola Con La Pelle Di Donna€). Like many of Fulci'€™s movies, €œLizard blurs the line between dreams and reality, with hedonistic nightmares featuring narcotic-fuelled orgies leading to real murder that may or may not have been committed during one of the dreams.
Morricone's music is as unhinged as the film itself, mixing post-sixties funk and jazz with increasingly uncomfortable effects to provide a haunting and biting backdrop for the turn of the century thriller. As always, elements of the maestro'€™s music are beautiful, with ethereal vocals by regular collaborator Edda dell€'Orso, and this works even better in stark contrast with the harsher sections, with eerie woodwinds, the requisite whistling, wind instruments that sound like coyote howls, and low rhythmic bass that hits your head and your stomach at a point where you start to wonder if someone else is if the house with you.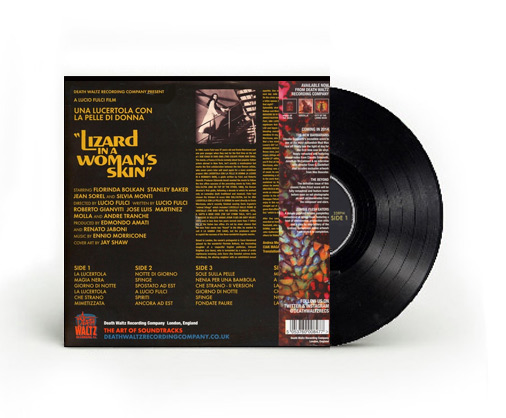 Still, if you'€™re going to be graphically murdered, €œLizard in Woman'€™s Skin€ is the soundtrack to have it done to you by.