**Reissued at last, a dream come true!** As we've said in the past, it's a great moment for reissues of ambitious, historical gestures of Italian music. Long neglected and overlooked, one after the other these artifacts have emerged from the shadows, entirely rewriting what so many of us thought we knew. Now, at long last, before us rest another piece in the puzzle - the first ever vinyl reissue of one of the most sought after artifacts from the 80s scene - Francesco Messina's legendary, Medio Occidente, originally issued in 1983 by Casablanca, and now reemerging in a new fully remastered edition via Best Italy. With copies of the original press commanding solid triple digits, this one is going to fly out the door.
Almost every fan of Italian Minimalism knows the name Francesco Messina. His debut LP, made with Raul Lovisoni, Prati Bagnati Del Monte Analogo, and issued by Cramps in 1979, is one of the most celebrated of all the artifacts of the country's many realisations of avant-garde music. So beloved that it has received two vinyl reissues in recent years - first by Die Schachtel, and then, more recently, by Superior Viaduct, it casts a long shadow over the music Messina made during the following years. Chief among these is the third and final release in his catalog, 1983's Medio Occidente.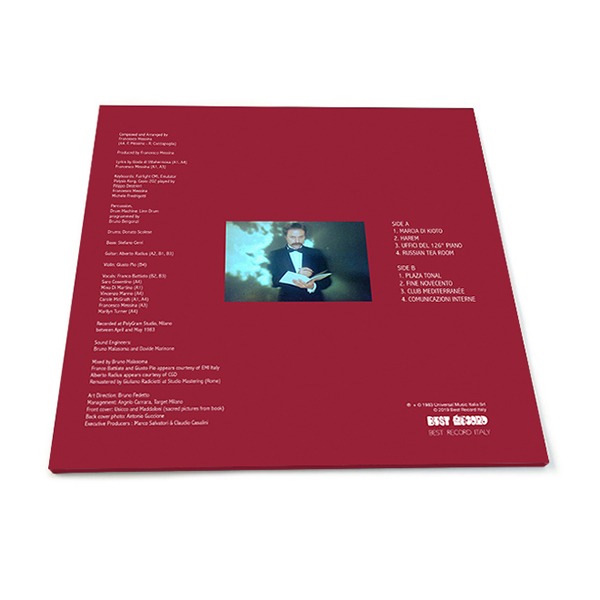 Medio Occidente rests within the category defiant proximity of music, falling on either side of the border that defines Italian Minimalism, which encountered avant-garde artists like Bebo Baldan, Pier Luigi Andreoni, Tiziano Popoli, The Doubling Riders, Francesco Paladino, etc, tracing closer and closer toward the realms of pop. Featuring contributions from an astounding cast - Giusto Pio, Franco Battiato, Michele Fedrigotti, Roberto Cacciapaglia, and others, it represents a crucial foreshadowing of where many of them would go as decades wore on. Across the album's two sides, elements of subcutaneous experimentalism join in expanses of minimal, rhythmic, and melodic ambience, slowly easing, at their own joyous pace, into the unknown. Visionary and widely celebrated by collectors for years, Medio Occidente presents a rare alternate vision, emerging during the 80s, for avant-gardism's place within popular culture - ideological and creative ambition, which rides the razors edge of dance.
Like so many of it's peers, Messina's Medio Occidente demands that the listener rethink the terms of definition, as well as categorising boundaries, applied to the practices and histories of music. Wonderful, immersive, and challenging in unexpected ways, Best Italy's newly remastered edition represent the first vinyl reissue of this seminal album since its original 1983 release.
Essential and not to be missed by any fan of Italian music at large. Grab it before it's gone again for good.