** First reissue of Karel Appel's masterpiece Musique Barbare*** Widely regarded one of Europe's most important figures in the post-war avant-garde, abstract expressionist painter Karel Appel developed an idiosyncratic visual and sonic language. Founder member of the avant-garde Cobra movement in 1948, Appel booked time in the Instituut voor Sonologie in the Netherlands to compose music for a documentary that cinematographer Jan Vrijman was making on Appel's work. Musique Barbare was born.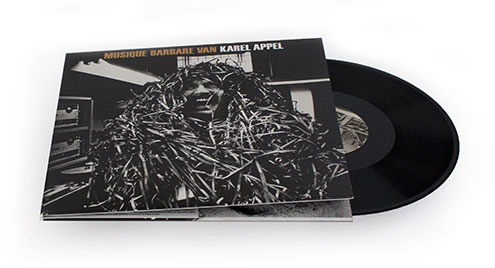 Made in collaboration with Insituut member Frits Weiland,  who's been also an important name in Dutch painting and filmmaking and whose tape works for the Utrecht Sonologie Institute are essential episodes in the history of modern European music,is  a genuine wonder of the electronic music world, and an essential listen, by anyones standards.
Musique Barbare is, in fact, a fantastic mix of electric organ fumblings, full-on riots of distorted kettle drum, tempering furious noise and assorted percussion-room filigrees, assembled into an extremely edit-heavy suite with significant tape-speed manipulation  Originally released by Philips, this masterpiece of musique concrète is a real jewel for any record collector. Karel Appel was a forceful and fascinating personality, and Musique Barbare bears his unique stamp as much as any of his other artistic creations. A more remarkable gramophone record has not been produced in many a year. Includes exclusive photos by Ed van der Elsken and texts by Jan Vrijman, all printed on luxurious photographic paper.
The result is really quite unlike anything you'll have heard from that time (1963!!) before.