The history of American avant-garde music is a snarled knot, twisting through the decades, spanning genre, practice, and approach. Most narratives plant its origins within the post-war period, orbiting around John Cage, Morton Feldman, and those artists springing from the movements of Fluxus and free-jazz. American creative innovation issued unquestionable influence over the later half of 20th century, but the root of its radicalism was earlier, with its origins often misplaced. Rather growing from Europe, it begins as a distinctly indigenous form, the seeds planted by a handful of visionary and singular minds working in the shadows, laying the groundwork for what was to come. Of these, the composer Harry Partch is arguably the most notable. One of the most important and singular voices of his century, he the focus of New World Recording latest LP, a lavishly expanded reissue of his seminal 1966 release And On The Seventh Day Petals Fell In Petaluma.

Harry Partch was a near perfect archetype of a now faded vision of American creative life. Cranky, single-minded, unflinchingly principled. A man whose artistic ideals led him to poverty and obscurity. A sometimes hobo drifter, who heard music where no else did. A composer, music theorist, and inventor / builder of instruments, Partch was born at the dawn of the 20th century, raised in the American West when it still held traces of being wild. Musically talented from a young age, his ear drew him toward the sounds of Asia, and the musics of the Native American communities with whom he interacted and met. By the time Partch enrolled in music school, his rigorous independence and nonconformity, with the seeds planted by these remarkable structures and sounds, had taken him too far. It wasn't long before he struck out toward sonic locations unknown.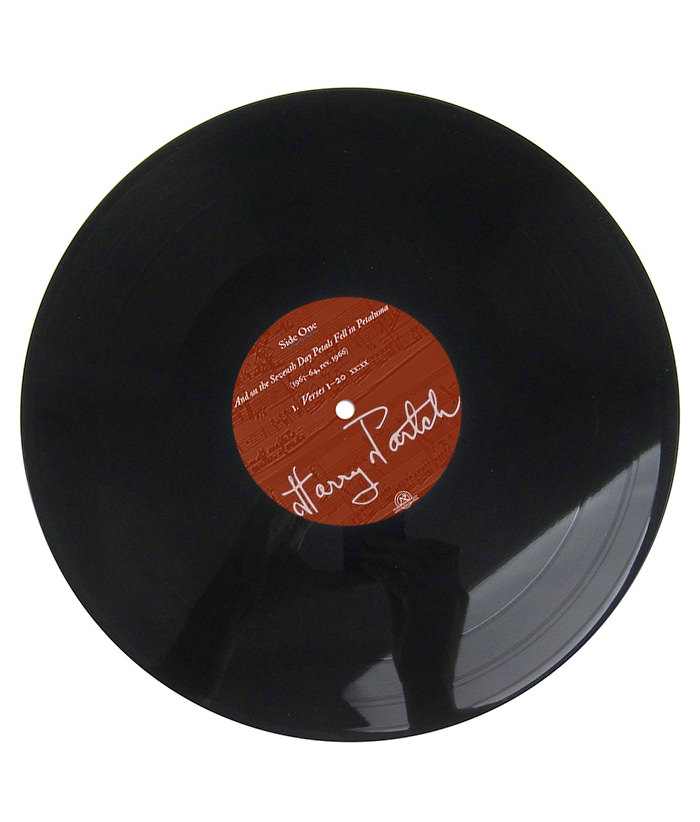 Despite his natural talent as a musician, Partch was destined to be a composer. He couldn't play by society's rules, let alone those imposed by the constraints of Western Classical music, no mater how wild and avant-garde. In his early 20's, looking outward and beyond, he began experimenting with Just-Intonation - after the Mexican composer Julián Carrillo, the first to do so in the West, slowly expanding his tonal range and adapting instruments to meet his requirements as the years wore on. At the outset of 1930's, he abandoned nearly all connection to Western music, setting out to liberate the listener form the constraints of the 12 tone system, increasingly building wild, unique instruments from scratch.

Partch's narrative is complex. He was widely respected by many of his peers, particularly Henry Cowell, Otto Luening, and Aaron Copland, among many others. During the Post-War period, he increasingly found moderate fame, enabling more security within his wandering, drifter's life - offered more opportunities to perform his works and teach, while issuing self-released recordings via mail order. The later places him as an early precursor of the DIY movement, which would come to prominence decades later. Despite all of this, Partch often proved too ahead of his time, and placed extreme demands on his contemporary listeners. There was only so far they were willing to go. Because of this, despite his incredible importance within the history of American music, not to mention the avant-garde at large, he wasn't offered the opportunity to record a wide commercial release until 1966, the seminal And On The Seventh Day Petals Fell In Petaluma, the first of only four albums to emerge during the last decade of his life.

And On The Seventh Day Petals Fell In Petaluma, reissued now by New World Recordings - the second in their series dedicated to offering the composer the attention and justice he rightfully deserves, following their brilliant 2015 release, A Portrait, is as important as Partch works get. Incredibly beautiful, it is also a perfect entry point for uninitiated listeners, featuring more constrained and focused works, from a composer know for his adoration of the dramatic and grand scale. Comprised of 34 duets - played on the composers unique instruments, which demarcate the verses of the complete work, the album is a rippling cascade of complex rhythms (thanks to the contribution of the legendary Michael Ranta) and tonal relationships - strange and incredible dialogs in sound, which open the window onto how ahead of his time and important Partch was. A true gem in his catalog, and unquestionably one of the most important artifacts within the canon of 20th century composition, New World's edition is as necessary and as timely as records reissues come. Guided by Partch's full original statement for the first commercial release of the piece, previously only excerpted, it is an illumination of the composer's broad purpose - his mission in sound. In addition to the late  Bob  Gilmore's fantastic liner notes, this edition is expanded to include the original recording of Verse 17, never before released and featuring Partch playing and recording his legendary Adapted Viola. As essential as them come.

Grab this one fast, it's a towering monument in sound by a seminal composer - one far too few have recognized and heard.