**very last copies** Private edition, limited to 100 copies "A documentation of a music happening recorded at Judson Hall, NYC. Sept 8-9, 11-13, 1964 with a stellar line-up that includes James Tenney on piano, David Behrman, Max Neuhaus, Alvin Lucier, Allan Kaprow, Nam June Paik, Allen Gingsberg and Jackson Mac Low. The idea, Allan Kaprow director explained, is "a collage of music and action". The music was electronic, but the action was clearly electrifying as Karlheinz Stockhausen's Originale was presented as the top event od Manhattan's Second Annual Avant-Garde Festival. from the program original notes:
the artist got on a ladder and, from a height, dropped eggs, paprika and stuff on a sheet of plastic, making a wonderful action painting. In the background was the electronic music. of course there was Allen Ginsberg, who recited a poem, using a few phrases that caused nervous giggles from some young ladies in the audience. Allen Ginsberg was dressed in his usual formal dress for concert work: blue jeans, red shirt open at the neck, a jacket of sorts, even shoes.
The evening was a triumph of organization. lest you think that the whole is not greater than the parts, consider how the following materials were so cannily used: live musicians (saxophone and percussion, the latter ending up undressed save for red leotards), a walkie‐talkie, a film sequence, a piano decorated with flowers and stuff in its innards, a clothes-rack, pillows, hi‐fi equipment, a newspaper boy, kids erecting constructions from wooden blocks, a big clock, newspaper obits, a scaffolding, the audience itself, apples thrown around, a monologue in Greek, one from Shakespeare, insane laughter.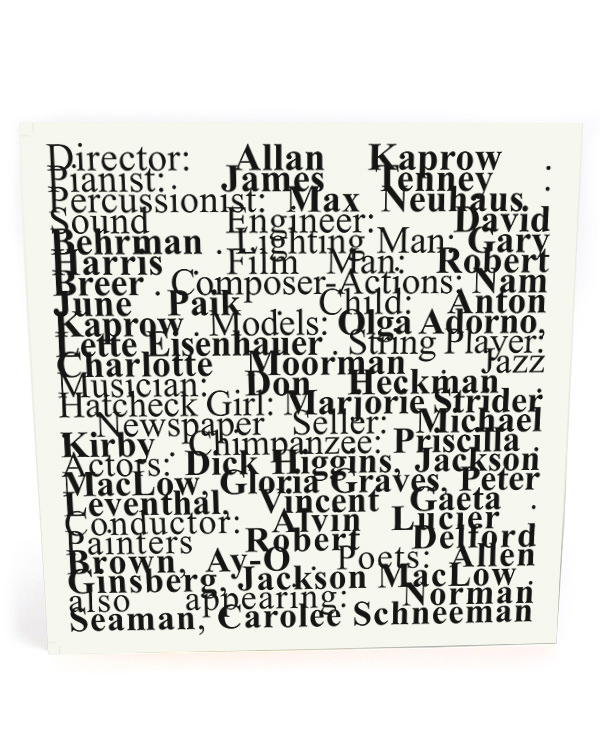 Outside, just before the performance, seven or eight pickets were demonstrating. some said they were part of the show. others said no, including the picketers, but nobody believed them. they bore signs that said: "Fight the Art of the Social Climbers"; "FIGHT THE RICH MAN'S SNOB ART"; "Don't Let Stockhausen Tell You Folk Art Is Primitive". they claimed to be members of the Action Against Cultural Imperialism. but they looked like the participants in Originale, they talked like the participants in Originale, they acted like the participants in Originale, and they were dressed like the participants in Originale. "We exist" said their leaders, "for the purpose of having these demonstrations".


just as Stockhausen exists for the purpose of having his demonstrations. and last night we were thoroughly stockhausened.

life will never be the same.