**restocked again, very last copies around** Their transcendental debut, from the lendary Geinoh Yamashirogumi, a music collective formed in Japan in  1974. Their approach psychedelic music with from a rather Krautish point of view and their first album from 1976 about which I write this review is rather a collage of strange noises, screams, a few rhythms patterns and wide open structures that seem to be borrowed from late 1960s psyched out free jazz. And you can bet, this is an ever flowing freak out but definitely an intense and mind bending experience. I recall German oddities like Organisation (pre Kraftwerk), Faust and others but there is another aspect in the music that is more difficult to trace down. Funk and jazz rock with a breathtakingly smouldering atmosphere you would rather expect from English groups emerging from the Canterbury scene like Soft Machine or some of the rather jazz oriented Italian progressive acts. But all in all Geinoh Yamashirogumi find an even more radical way to express their feelings and make their inner visions manifest in sound despite a sweet smoothness coming with these rocking jazz elements. Oh dear, this is definitely far from being ordinary. Choirs with typical Japanese chants add some wicked exotic tinges to the whole musical picture. If you dig progressive, krautish psychedelic jazz rock, this is exactly what you are looking for. The whole album is divided into two parts of which - Osorazan' comes closest to rock music while - Doh no kembai' seems to be a live performance of a stage play by this music and theatre collective based nearly entirely on vocals. Open minded lovers of truly progressive music from the 1970s will go nuts.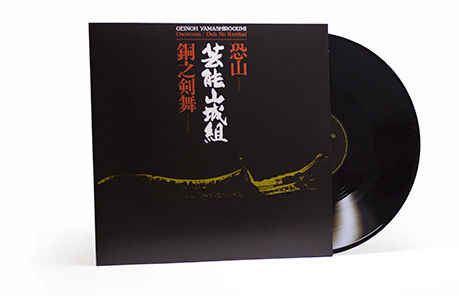 "Commencing with the greatest scream of any rock'n'roll record ever, this transcendental debut by Geinoh Yamashirogumi inhabits its own space like no other. Recorded in Tokyo, at Victor Records' enormous Studio Number One, the LP is comprised of two side-long pieces of ritual chanting and theatre music in the J.A. Caesar tradition.
Osorezan was performed by seventy singers accompanied by a highly authoritative and psychedelic band (including two ex-Spiders). There was in Japan no previous precedent for such transcendental music, and Osoerzan's unfathomable beauty should be compared to a highly extended Doors-influenced theatre piece. Unfortunately, as the Osorezan title track is one of rock'n'roll's highest ever achievements, its greatness eclipsed all of the ensemble's future releases"- Text from Julian Cope's JAPROCKSAMPLER Named 8th best japrock album in Julian Cope's Japrocksampler Top 50.