At long last, La Monte Young and Marian Zazeela reissue this seminal, hugely influential album on their Just Dream imprint, the legendary recording from 1968 India of Pandit Pran Nath titled 'Ragas Of Morning & Night'.  The original studio session was produced in New Delhi, February 1968, by Jimi Hendrix associate Alan Douglas, it features recordings of "Raga Todi" and "Darbari", which showcase Pran Nath at his prime.
Pran Nath's exquisite control between microscopically fine degrees of pitch can be easily heard in the former. The first two thirds of the piece is performed slowly and delicately, each sinuous line being given careful weight and consideration. When, in the final few minutes, the pace quickens there is a startling sense of unfolding possibilities, almost an embarrassment of riches after the earlier rigour. The second raga follows a similar structure but the tonal center is entirely different; instead of the plaintive almost keening quality of the morning raga, we hear a calmer, more accepting feeling, as though the singer has graciously acceded to what has occurred that day. This time when the tempo picks up it's as if the singer has gotten a second wind late in the day and is suddenly full of joyous energy. The effect of Pran Nath's quivering lines and immensely complicated vocal arabesques is liberating enough. When he goes head to head with the tabla player for some intricate sparring, ones jaw tends to drop. Ragas of Morning and Night (originally released on the hugely influential, now-defunct, Gramavision label) is a wonderful recording and would serve as a fine introduction both to this musician and to this particular style of singing as well.
Pandit Pran Nath was a master of the Kirana style, a 600-year-old school of Hindustani music that involves extraordinarily minute gradations of pitch. He sang with a grainy tone, virtually no vibrato and remarkable control and finesse, and his improvisations had a deeply contemplative aura. "The raga is created in between the tones," he often said. For the Hindustani musicians, the voice is the original instrument, possessing the flexibility and potential that other instruments should aspire. Pandit Pran Nath was a vocalist capable of piety and tenderness, yet during late night ragas he would unleash fiery recitals that left his audiences shellshocked.
"He was a living encyclopedia of the ancient traditional compositions," La Monte  Young once said. "And he had an extraordinary knowledge of the proper delineation of each raga." Ragas are connected to certain times of day, seasons and other natural and personal associations, and Pandit Pran Nath insisted on performing them at the appropriate times.
A living repository of thousands of obscure ragas, many of which have probably become extinct with his death in 1996, Pran Nath devoted much of his later years to teaching. He numbered La Monte Young, Terry Riley and Jon Hassell among his long time students, who were fascinated by pure intonation and microtones and who were pioneers of Minimalism, and through them his unique phrasing and melodic sensibility have filtered into contemporary composition. Additionally, excellent and detailed liners notes by La Monte Young are included.

To hear the music of Pandit Pran Nath is to enter an extraordinary domain, where the tones of his voice at once calms and centers the listener, speaking directly to the soul in a magical world of pure white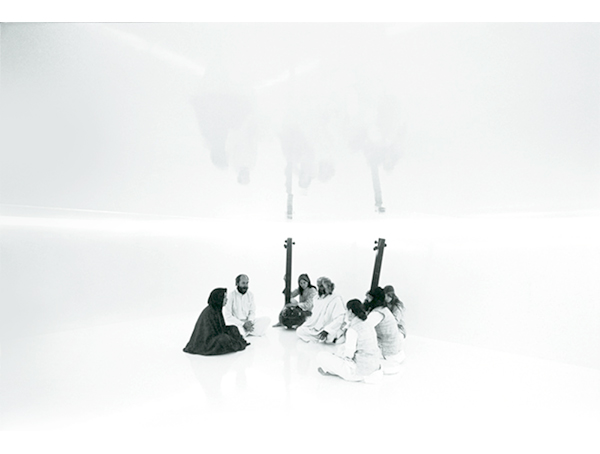 For a decade and a half, Pran Nath lived in Young and Zazeela's loft for a good part of each year, and the New York night owls were typically requ ired to rise at 3am each day to prepare tea for their teacher, who slept at the other end of the loft. He would then perform his riaz (practice) and give them a lesson - if he chose to.

"He was the head of the household'' recalls La Monte Young. "We were not allowed to have friends. We had to give up everything - rare ly did we even get to vis i t our parents. He was very protective of us and extremely possessive of us. But we got the reward. The reward is, if you make the guru happy, then you get the lessons."