Necessary, 1st-ever vinyl issue of Colin Potter's fizzing post-punk & avant-pop experiment, The Scythe (1981), repackaged with a handful of alternate mixes and a cut from Nightshift, plus new sleeve design by Jonathan Coleclough, who also did the original tape artwork.
Leading on from Deep Distance's 2013 reissue of Two Nights, which was also made and first issued in 1981, The Scythe finds the Nurse With Wound member really indulging and exploring his thang for krautrock, dub and noisy electronics across 15 original tracks infiltrated by 7 un-or-lesser-heard alternate mixes.  Apparently his fellow North Yorkshire-based maverick, Trevor Wishart provided assistance on some tracks, as did Jon Caffrey and Mel Jefferson, although we're not made privy to which ones (although the squirrelly electronics on Carpentry do sound a bit Wishart-y), but it certainly makes these nippy little zingers even more interesting.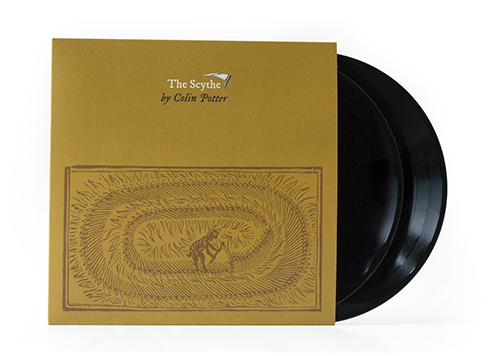 They're all driven by lean, mean drum machine pulses, equal parts gothic, garage-style stepper, Can or Neu!-style engine, and early Sheffield pop torque, whilst the vox range from monotone, moribund to acid-fired, and all elided with that dripping, distroted patina of psychedelic synth-and-guitar melody that's really the deciding factor in the album's quicksilver and otherworldly brilliance. 
Recommended!