1st time ever readily available on vinyl - the rarest entry on the legendary Nurse With Wound list (which is saying something). Ltd. ed. of 300. "Fille Qui Mousse ("Girl With Froth"??) is one the most mythical albums to be released(?) from France. Recorded in 1972, it was issued in 73 (evidently only as a test pressing in an edition of maybe 50) by the legendary Futura label. Often referred to as the French Faust, FQMs album mixed collage, psychedelic rock, surreal poetry, and organically tapped noise purity with the absolute best of experimental 70s rock-and-beyond. One of the essential reissues of the 70s rock underground." - Bichon. "Straight off, we plunge into that Faust structure...riffing with a psychedelic bent, hints of Gong too...we move into bizarrely constructed patterns of percussive sound and chopped-up rock music, and just as a musical focus takes shape it disappears. A poem, recited by a girl, over an urban landscape populated by numerous barking dogs then gives way to an intensely strange mangled web of sound thats almost brain numbing.
And, yet more in the way of strangeness is a piano based piece that recalls some of Roger Doyles early experiments. The only actual song has the most bizarre lyrics (in English) and is followed by an excursion in distorted and processed guitar. Next is where the folk music comes in, but even with gypsy violin FQMs interpretation of folk is strange and twisted. Finally, we return to the psychedelic jamming that opened the album, but with a jazzier edge, ending the album perfectly."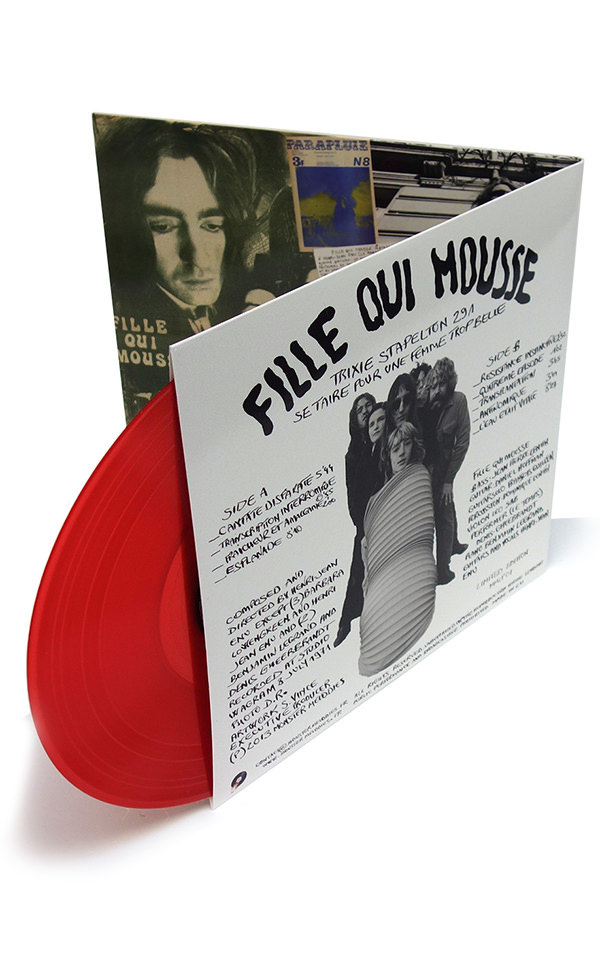 The group was created from the culmination of a movement born after the Second World War, counter culture and the apparition of Lettrism, founded by Isidore Isou who wrote the book The Uprising Youth accompanied by Gabriel Pomerand, Maurice Lemaitre, Jean-Louis Brau, Guy Debord, Gil Wolman. The band consisting of Barbara Lowengreen (vocals), Bernard Gilson (guitar), Sylvie Péristéris (sound effects), Henri-Jean Enu (guitar, vocals), Denis Gheerbrandt (vocals), Daniel Hoffmann (guitar), Benjamin Legrand (piano, vocals), Dominique Lentin (percussion), Jean-P
Comes as a red translucent vinyl comes in a sleeve which opens up, presenting unpublished photos of the group and containing two postcards reproducing the vintage concert posters and an insert with an unpublished text by Henri-Jean Enu. Edition of 500.