Within an era dedicated reassessing neglected sonic histories, Superior Viaduct has emerged as a distinct and singular voice - dismissing the presumptions of taste and genre, offering fans an endless stream of adventurous sound. With a singe hit of five LPs - a gesture representing the debut of their new sub-label Etats Units, they're upping the anti - plunging further afield and digging deep.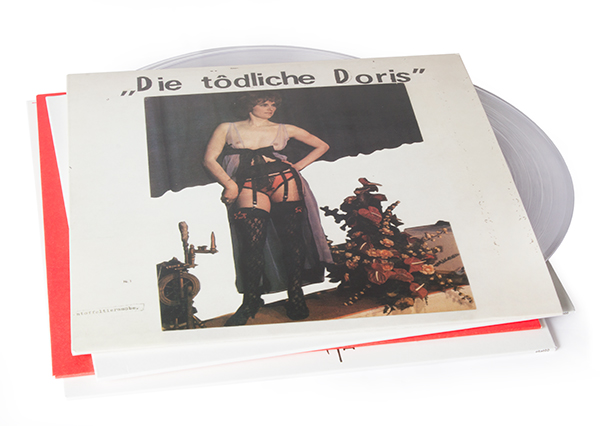 Etats Units is an intervention - an open challenge to how connections are formed - to presumption and the ear. Each of the label's first five releases - Highlights Of Vortex, Tod Dockstader's Eight Electronic Pieces, Die Tödliche Doris' " ", Le Forte Four's Bikini Tennis Shoes, and Joe Jones' In Performance, exist within radically divergent positions in the history of organized sound  - unconventional gestures, made by a singular artists, during different periods - with radically different intents. Together they present layering of diverse ideas, which, even decades after first appearing, continue to unfold - alternate conceptions of the avant-garde - schisms with history, joined with startling effect.

Each of these albums is an obscure treasure - singular, unique, and historically significant - masterworks, long coveted and hunted by collectors and fans - multidimensional challenges to the ear. Standing on their own or placed side by side, they are snapshots into the many rewards of setting taste and presumption aside - of adventurous listening and sonic exploration - of being led by the heart and the ear. While each offers its own discrete appeal, it's worth rising to the challenge of the whole. Limited to 500 numbered copies, grab them all and let the conversation unfold.  

Various Artists - Highlights Of Vortex

A series of events staged between 1957 and 1960 by Jordan Belson and Henry Jacobs in San Francisco, the Vortex Experiments are seminal gestures in the history of experimental practice. They attempted a total sensory experience - a living theater of sound and light - defying the historic narrative, offering hints of the coming psychedelic era nearly a decade before its time. Highlights Of Vortex - originally released in 1959 by Folkways, gathers recordings from the most noteworthy sonic experiments from the program's tenure - including efforts by Jacobs, as well as others by David Talcott, William Loughborough and Gordon Longfellow. It is a landmark recording in the history of electronic tape music - drawing on the sounds of free improvisation, field recording, classical Indian instrumentation, and West African polyrhythms. Falling somewhere between musique concrète and extended electro-acoustic practice, Highlights Of Vortex is a wild shimmering sonic world - spaces drenched in reverb and delay. Long heralded by fans, an LP presenting is one of the most neglected and important moments in the history of the American avant-garde.

Tod Dockstader - Eight Electronic Pieces

Tod Dockstader's Eight Electronic Pieces is seminal document of American electronic music. Originally self-released in 1961, it appearing later the same year on Folkways - representing the premier of one of the era's most important avant-garde composers. A long coveted masterwork - hunted furiously by collectors and fans and commanding a hefty price tag, the album took Dockstader three years of extensive labor to record. From moments stolen after-hours at the New York radio station where he worked, emerged a wild totemic work - a singular hybrid - musique concrète, electronic, and electroacoustic music, joined as a single force. Immersing the ear in sonic beauty, ambience, and ideas, Eight Electronic Pieces is an idiosyncratic effort of towering importance - a window into the past, looking forward - laying the groundwork for so much of what was to come.

Die Tödliche Doris - " "

Within the collective body of Etats Units' debut releases, Die Tödliche Doris' second LP " "  is conspicuous. Among the most important documents of early 1980's German Post-Punk, it opens a lens into the label's wider position and concerns - a challenge to how connections, association, and definition are formed. Though entirely a part of the body of social concern from which it grew, it presents important threads binding generations of sonic countercultural activity - as much Punk, as experimental and avant-garde. The group, founded by Wolfgang Müller and Nikolaus Utermöhlen in 1980, was part of the movement Geniale Dilletanten - Ingenious Dilettantes - a cross disciplinary challenge to both Western capitalism and GDR socialism - also counted Albert Oehlen, Martin Kippenberger, and Einstürzende Neubauten as members. Geniale Dilletanten fought to snatch cultural production from the hands of increasing industrialization - attempting to democratize it. This is the current bubbling below " "  - a wild, wonderful, playful ride - falling somewhere between outright conceptualism, early industrial music, minimalism, art-rock, and straight up Post-Punk. Produced by Einstürzende Neubauten's Blixa Bargeld, its thirteen songs present a casual of clattering beauty, filled with energy, anger and joy. A likely revelation for any fan of avant-garde music and Punk - an absolute must.

Le Forte Four - Bikini Tennis Shoes

Le Forte Four grew from the wonderful anarchic movement of the Los Angeles Free Music Society. Formed by Chip Chapman and Rick Potts in 1974 - joined shortly after by Tom and Joe Potts, the band was an effort in sonic joy - bridging avant-garde classical music and Free-Jazz - hinting at the coming movement of Punk. As and album and a document, Bikini Tennis Shoes is as important as they come - rewriting history in a series of blows - entirely undermining our understanding of musical approach during the 1970's. It's decades ahead of it's time - far closer to bedroom experiments made during the late 90's than anything of its own era - a scattered irreverent synthesizer record, straying into free-improvisation and musique concrète. A cultural collage, attempting to distill the whole - the breakdown of a cluttered and broken America in sonic form. If you ever wondered where the outsider ethos and DIY came from, this is it - the beginning of it all.  

Joe Jones - In Performance

Joe Jones is central to the history of Fluxus, and to the legacy of sound practice within the context of fine art. Like many of his peers, his name has been largely lost to the shadows of time. An inconvenient iconoclast. An artist who cut his own path and never fit in. His album In Performance is a startling gem - long coveted by collectors of artist records. A student of Cage and Brown, Jones was early to sidestep the constraints of musical categorization - attempting to free himself through the use of machines. In 1961 he began a practice to creating orchestras of self playing instruments. Called the Tone Deaf Music Company, it is this assembly which generates the sounds on In Performance - originally issued in 1977 on the Harlequin Art imprint as a tiny run. It is astounding piece of work - bridging conceptual practice, a world slipping out of control, and the rising wonders of sound. Undermining authorship and standing ideas of the the performer, a reverberate cacophony, laced with shimmering conflict. In Performance  is a work of profound importance, missed by almost everyone when if first appeared - may that mistake never be made again! In the world of reissues and historical reappraisal, this is as good as it gets.
The five LPs in bundle, each album pressed in a limited edition of 500 numbered copies on clear vinyl. Please note that they are already sold-out at source: