**Second edition, limited again to 99 copies, be quick** Along with Merzbow and Hijokaidan, Masonna is one of the best (known) Japanese noise projects. A psychedelic touch, cascades of electronic noise and vocal belching mixed together constitute the ingredients of Mademoiselle Anne Sanglante Ou Notre Nymphomanie Auréolé, the double-barrelled named for Masonna. Yamazaki "Maso" Takushi created Masonna in 1987. He started recordings on cassette tapes for his own label: Coquette. His plentiful productions were presented in a ultra limited edition, sometime totally confidential (one sole copy), and contributed to create a mythology based above all on the astonishing intensity with which '' Maso '' devastates and reprocesses the vocal cords, in a true total electronic song.
In his impressive live performances he created and electrically overcharged universe, punctuating the electric and vocal sonorous power with some quite moments and brief interruptions, conferring a very particular dynamic to his pieces.
Masonna is an emblematic figure of Japanoise, who shines by a personal approach and an immediately recognizable style. A zenith in the noisy Japanese landscape.
Inside the chaos: the God of noise!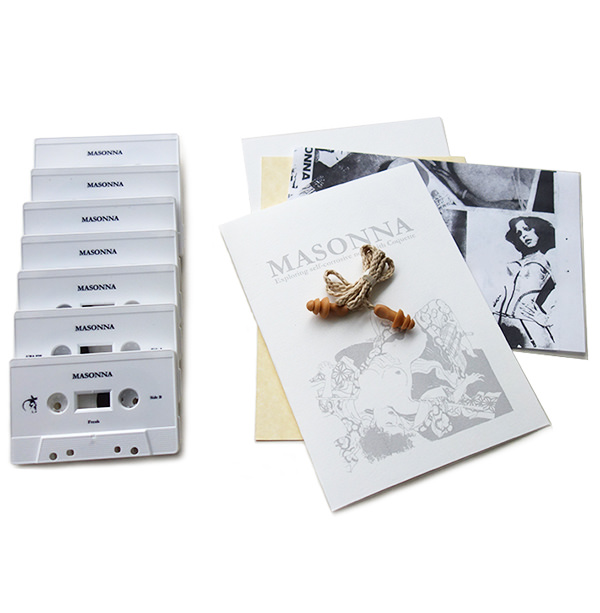 Wooden box (limited to 99 copies) comes with reissue of seven ultra rare tapes released on legendary Coquette:
Like A Vagina  -  1988
All Live Recording At My Room  -  1989
Mad Onna  -  1989
Maso + Onna = Masonna  -  1989
Hate  -  1995
Freak   -  1995
Filled With Unquestionable Feelings  -  1995
.