Ottoman Black is a masterful damn record, an album of midnight drones and true noise, a definitive statement that makes most other noise records of this ilk seem immature, if not outright stillborn. From cover' s photography , presenting mundane situation with an air of isolated, hysterical desperation, to the track titles, presented in the style of an academic outline (I.,II.,a.,b.,etc.) this is a formally conceived and meticulously crafted 35 minutes, leaving nothing untitled or untidy.
Ottoman Black  is the very highest percentile of achievement, the top one percent of noise albums that come out in 2008. It is not something to nod off to, or put on while washing dishes, but a 35- minute symphony of dread, distress, and yes, betrayal. At the same time, the sheer depth of technological achievement (great sound/mastering/technical know/how) make it an engaging listen, and will assuredly continue to give up new information with multiple listens.
As Urashima reissues go, this is on the new side of old, but its inclusion still makes sense alongside MB and Atrax Morgue and others. If Maurizio Bianchi's atrophied synth and Marco Corbelli's sickly moans diagrammed the depths of their despair and depression, Crumer processes his frustration and failure visually, recreating humiliation and defeat through lucid waking nightmares, recreations of the worst day of his life through sound and text. Ottoman Black still sounds as blazing and new as it did when it was released. It is not a museum artifact or dated in its style, even if it feels like it was created in a different time. Highest recommendation.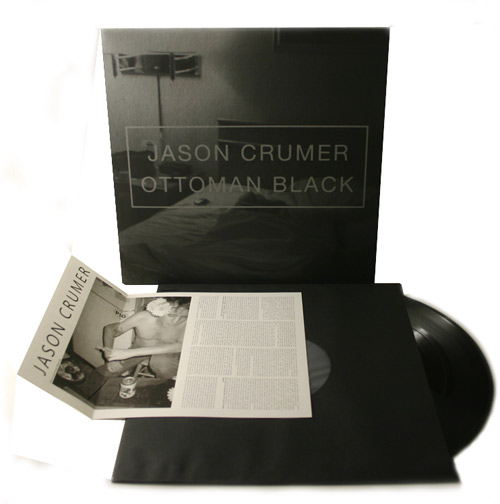 Chris Sienko is the associate editor of As Loud As Possible magazine.
Lp has been pressed on 140 gr black vinyl with black label and black inner sleeve and comes in a deluxe silver silkscreen on black cardboard sleeve, limited to 199 copies w/insert in luxury 160 gr ivory paper with exclusive notes by Chris Sienko, Raymond Cummings, Tom Grimley and Ryan Jencks. All package in a clear plastic sleeve to protect record Lp, cover and inserts from dirt, shelf wear and damage.