**2022 small repress** Alga Marghen very proudly presents a remastered version of the complete documentation of Eliane Radigue sound installations from 1969-1970, including the broad tectonic vibrations of "Omnht," the celestial voices of "Usral," the massive chant of "Stress Osaka," and more -- the works of this artist's feedback period finally revealed. It is amazing that Radigue could build such formidably organic sonic edifices in her home studio with the primitive machines given to her by Pierre Henry: three tape recorders, a mixing board, an amplifier, two loudspeakers and a microphone. Eliane previously worked for Henry at the Studio d'Essai of the R.T.F. from 1955 to 1957, after having met Pierre Schaeffer almost by chance, who invited her to learn the techniques of musique concrète.
Created 10 years after her Studio d'Essai experience, the feedback works of Eliane Radigue immediately take a new direction from the explorations of musique concrète. Her adventure intuitively goes towards flux, towards contemplative stasis -- a music of continuous sounds, of apparently simple structures, which permits the revelations and expansion of rich acoustic phenomena. It is as if her musical work was in some way a martial art -- as if she meditated for 10 years before striking the first blow, with impressive precision. This is the context in which Eliane composed "Omnht" in 1970 for the architectonic spaces of the visual artist Tania Mouraud titled "One More Night," presented at the Gallery of the Rive Gauche in Paris; "Usral" (the title comes from a phonetic compression of ultrasounds slowed-down, in French "ultra-sons ralentis") is one of the first works by Eliane Radigue to be given in public as a sound environment for a sculpture by Marc Halpern in the Salon des Artistes Décorateurs at the Grand Palais of Paris in 1969; "Stress-Osaka" was conceived when the artist was invited to create a sonic environment for the International Fair in Osaka in 1970.
There is no doubt that Eliane Radigue's vocabulary is based on observing and entering into dialog with the fundamental behavior of sounds: pulsing, beating, sustained, very light -- a subtle and delicate evolution. When she moved from feedback sounds to the ARP synthesizer, she naturally continued the same music, a continuity where the original use of feedback sounds stands out for its cruder and more savage inner character. One could say that somehow it's the very texture of the sounds, which leads the form of her compositions. Includes a 16-page LP-size booklet with original photos, scores and liner notes.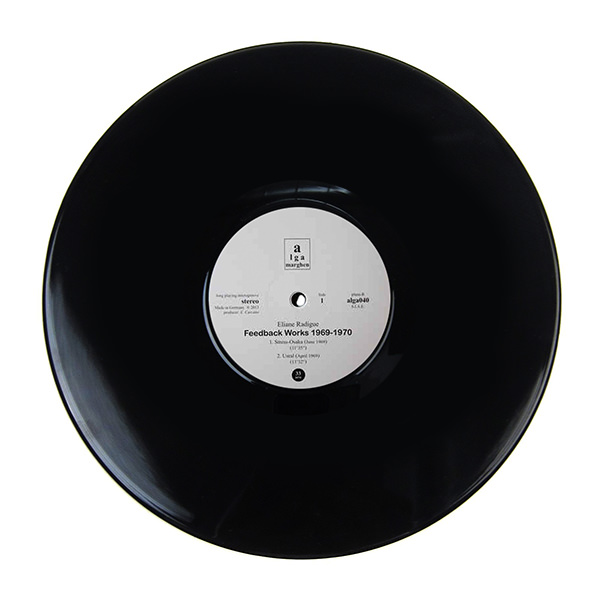 Cat. number: plana-RH alga040
Year: 2022
Notes:
Gatefold edition with golden artwork, 16 page booklet of notes, interview and photos - limited to 200 copies.