Exact LP repro edition. Grey-area reissue of this legendary album, with top audio quality: the seminal "Racional 1" privately released by
Tim Maia
on his own Seroma imprint (the name Seroma is the sum of the first syllables of Tim Maia (Sebastião Rodrigues Maia) names. SE from Sebastião, RO from Rodrigues and MA from Maia). It's difficult to overstate the importance of Brazil's Tim Maia. A wildly restless creative mind Tim Maia was also a huge personality. The larger than life man made a huge contribution musically to Brazilian Jazz, funk, soul, psychedelia, disco, ballads, rock, Música popular brasileira, and more.
At the height of his musical career, Maia went on to join a radical, extraterrestrial obsessed cult in 1974. The 32-year-old Maia and his band retired to a house in a secluded section of Rio de Janeiro and spent their days smoking marijuana and experimenting with hallucinogens while working on new material.In the midst of a mescaline trip, he discovered a book entitled Universo em Desencanto (literally "Universe in Disenchantment"), the manifesto of an obscure religious cult known as
Cultura Racional
. Within weeks, Maia had dedicated his life to the cult, coerced his entire band to join and live by its strict precepts (no drugs, no alcohol, no red meat, and no sex except for the purpose of procreation), and was bent on a new direction for his double album.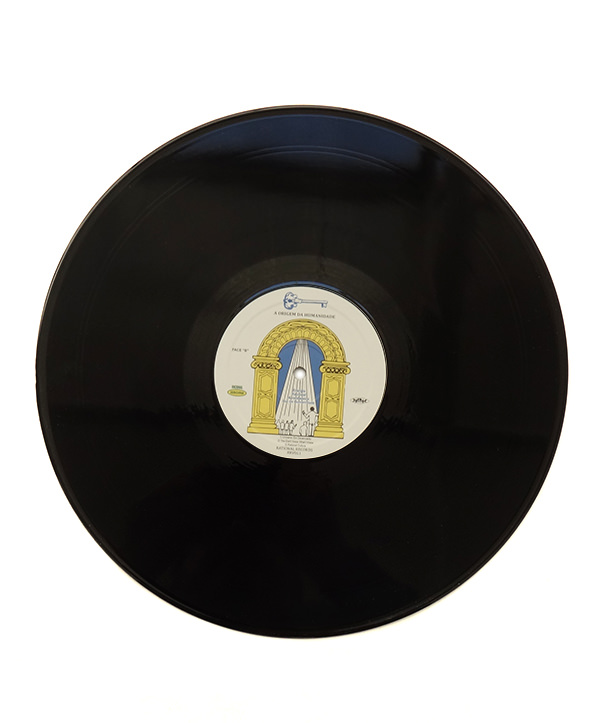 Gone was the accessible pop music he'd been known for, his usual romantic and party-oriented lyrics replaced by devotional verses. Tim Maia had conceived a new sort of lunatic gospel music rife with sci-fi imagery and relentless evangelism. "Read the book, the only book!" was Tim's mantra, repeated dutifully on every track. Clearly, he was obsessed, but whatever dubious logic and deception were behind it, the end result is astonishing. Giving up drugs and alcohol, getting rid of material possessions, and trying to convert the rest of the country of Brazil (and the world) to Manoel Jacinto Coelho's Cultura Racional, Maia's the tale of his foray into this strange cult is something that needed to be done. This theme was projected onto this album in its lyrics, sound, and artwork. And what an album it is! In a way this Rationalist' belief saved Tim's musical life as much as his physical/spiritual.