At Soundohm, we've dedicated our lives to music which defies category and constraint - which ventures into unknown territories, risking everything to stand on its own. There are few better cases than Werner Durand - a true maverick of experimental practice. Since the early 1980s, the composer and instrument builder has been  sculpting a singular landscape in sound, bridging countless compositional spectrums, while resting comfortably in none. Rising to the stunning singularity for which he has become known, his latest release Schwingende Luftsäulen (Vibrating Air Columns), issued by Italian experimental imprint Ants, is nothing short of a brilliant sonic gem.

Werner Durand's work is a melding hybrid. He has collaborated with as diverse figures as Arnold Dreyblatt, David Moss, David Behrman, Henning Christiansen, David Toop, and Catherine Christer Hennix, among many others, studied with Ariel Kalma, as well as Indian classical music with Kamalesh Maitra, and the Iranian Ney with Ali Reza Asgharia. During the early 80's he began building his own instruments, performing on them extensively ever since. One such case is the Pan-Ney, an instrument that he invented in 1984 and features as the sole sound source for the recordings which make up Schwingende Luftsäulen (Vibrating Air Columns), recorded between  A bristling, tense, hypnotic Minimalist wonder, its breaths dart toward the ancient world and back to the harmonic interplay and structures of the avant-garde. Challenging and incredibly beautiful, the work was conceived responsively to the properties of the air passing thru the plastic tubes that make up the Pan-Ney, and is steeped in profound honesty.


 Schwingende Luftsäulen (Vibrating Air Columns) is dedicated to Tony Conrad, whose piece "Ten Years Alive On The Infinite Plane" from 1972 inspired its particular tuning. Unquestionably contemporary music at it's very best. Accompanied and underlined by the beautiful drawings by Karlheinz Bux, Ants has outdone themselves again. We can't recommend this one enough.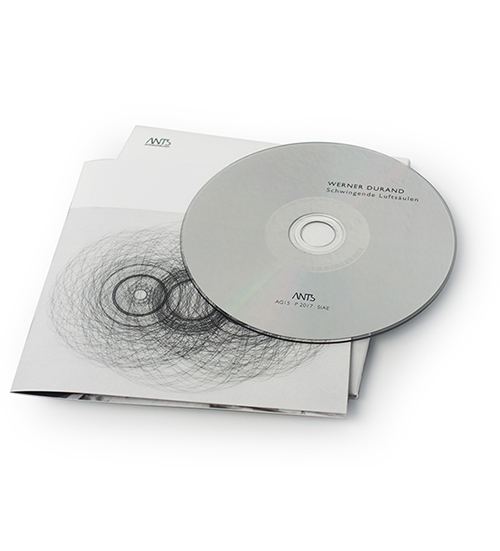 edition of 300 copies