Best of 2019
Taraxacum (LP)
Label: Black Sweat Records
Format: LP
Genre: Experimental
In stock
LP version. Incredible 1986 lost recordings, an amazing adventure of a musicological and botanical research on the psychoacoustic qualities of the green world. Black Sweat has always focused its gaze on a diverse series of genres, from an equally diverse number of geographies and eras. Equally, the label represent one of the great, focused efforts in illuminating the output of the Italian avant-garde - an endlessly exciting, but all too neglected vein within the history of recorded sound. Central to the beginnings of this movement is the legendary ensemble, Aktuala - a project which laid the groundwork for many of the defining characteristics of subsequent movements and scenes, with its members, and those who were inspired them, creating a remarkable body of work which stretches across the decades. Black Sweat's latest batch begins with a long lost release by one of Aktuala's most important members, Walter Maioli - equally noted for his contributions to the seminal projects, Futuro Antico, Amazonia 6891, Gruppo Afro Mediterraneo, etc, made in collaboration with the composer Nirodh Fortini, between 1986 and 89.

Never before released, Taraxacum is a journey back in time - a window into what so much of the Italian avant-garde was all about - visionary, creatively ambitious, and relentlessly democratic - drawing inspiration from a diverse number of global traditions, as well as the sounds of the natural world. Drawing from musicological and botanical research on the psychoacoustic qualities of the Green World - an investigation of an organic symbiosis - the pharmacological properties of plants and the sound emitted by their material essence, these are the realms music which few have explored - singular fruit born of a juncture between the visionary mind of Maioli and the music therapist and eclectic composer, Agostino Nirodh Fortini - a specialist in the field of sound and video applied to body therapies and meditation.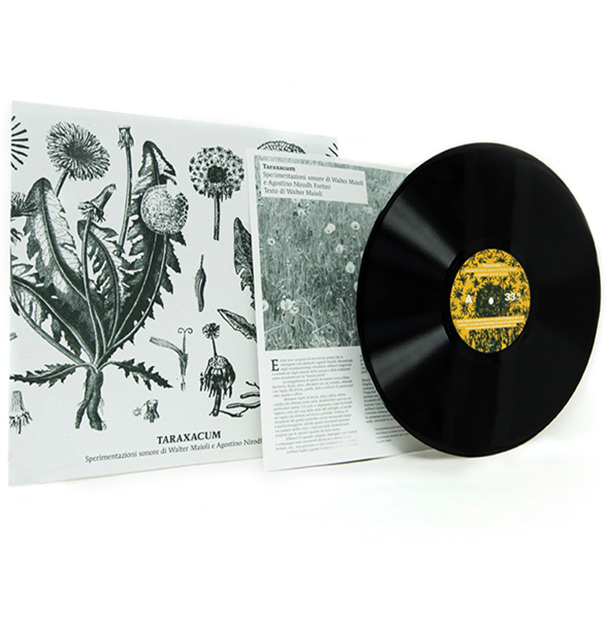 A stunning patchwork or resonant harmonics, sustained and shifting drones and tones, played against the rippling sounds of field recordings, the beauty and creative ambition of Taraxacum is nothing short of overwhelming. A truly immersive, sometimes complex, revelatory adventure with one foot in the minds of its creators, and the other in the natural world. Stunning, and absolutely essential on every count. It's impossible to recommend this one enough. If you loved Black Sweat's reissues of Futuro Antico and Amazonia 6891 as much as we did, or are fans of minimalism, new age, or field recording based work, this one is as essential as they come.