During the years from 1968-70, Fylkingen Records released series of 7 LPs in collaboration with the Swedish Radio, all of which contained material that was presented during the yearly festivals for Text-Sound Composition that Fylkingen arranged during those three years. The yearly festivals continued from 1971-71. A series of records that documented these festivals was planned but, due to economic reasons at that time, they were never made. Fylkingen Records has now, over 40 years later, found the material that was presented at these festivals and continues the series with vol. 8-11 - one record for each year´s festival during the years 1971-74.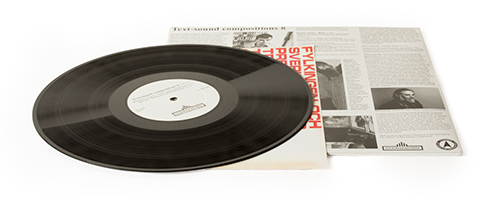 Side A
 Bengt Emil Johnson (SW) – 1/1971: under publikens jubel (7.29)   Fascinating tape piece built with ultra-short snippets of recordings of crowds cheering. Heavily treated (filters, ring modulation, delays, flangers, time-stretch). Composer/poet Johnson, together with Lars-Gunnar Bodin, coined the term Text-Sound Composition in 1967.
 Gust Gils (BE/NL) – Making Out In Windy Stockholm (14.58)   Quite a funny audio-play this is, made at the Dutch public radio in Hilversum in 1971. Gils was a poet and writer of short stories. The text builds on atmospheres and impressions from his visits of the two preceding Text-Sound Festivals.
   

Side B
Herman Damen (NL) – Magic (3.45) Also made in the Dutch radio studio in Hilversum, 1968-70. A multi-track improvisation on a planned scheme with the syllables b(e), ba, ab, a, bra, br, ka.
Bob Cobbing – Trilogy Three (14.30)   Another multilayered piece, quite dark and ghostly, featuring the voices of Cobbing and John Darling. Made at the Swedish Radio.

Includes a facsimile print of what looks like the poster of the event, April 1971.