**Volume 9 (from the serie of 11)** During the years from 1968-70, Fylkingen Records released series of 7 LPs in collaboration with the Swedish Radio, all of which contained material that was presented during the yearly festivals for Text-Sound Composition that Fylkingen arranged during those three years. The yearly festivals continued from 1971-71. A series of records that documented these festivals was planned but, due to economic reasons at that time, they were never made. Fylkingen Records has now, over 40 years later, found the material that was presented at these festivals and continues the series with vol. 8-11 - one record for each year´s festival during the years 1971-74.
.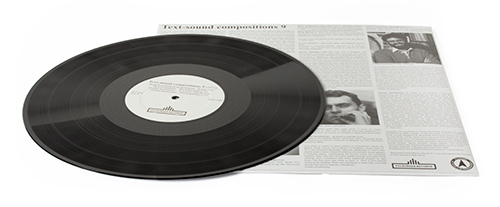 .
Christer Grewin - Dialogi (7.11)
A beautiful, atmospheric piece using cut-up / treated voices, collaged together, quite spacious with sparse harmonic layers of sound.
Bob Cobbing - Sha ma na (11.55)
Live recording of almost a purely vocal (plus a bit of percussion) piece, partly improvised, featuring Cobbing, Lillemor Lind and Ewa Svensson, sounding, indeed, like a shamanistic ritual.
Maud Reuterswärd & Bengt Nyquist - 16.3.68 (5.33)
A political piece about the massacre in Son My, Vietnam, on this exact date. A sober collage of looped voices, screams, filtered, delayed, panned..
Öyvind Fahlström - Den svåra resan (5.15)
Falhström (1928-1976) was one of Sweden's most well-known artists, active in visual arts, film, writing, and sound. This today sounds like a fairly traditional piece of multi-layered voices, performed live by a vocal ensemble.
Charles Amirkhanian - as erson´s onal tte (3.05)
 A four-channel piece of poetry narration.
Charles Amirkhanian - Sound Nutrition (3.10)
 A cut-up text about nutrition from promotional announcements, which then becomes quite alien and disturbing.