Volume 11 (from the serie of 11). During the years from 1968-70, Fylkingen Records released series of 7 LPs in collaboration with the Swedish Radio, all of which contained material that was presented during the yearly festivals for Text-Sound Composition that Fylkingen arranged during those three years. The yearly festivals continued from 1971-71. A series of records that documented these festivals was planned but, due to economic reasons at that time, they were never made. Fylkingen Records has now, over 40 years later, found the material that was presented at these festivals and continues the series with vol. 8-11 - one record for each year´s festival during the years 1971-74.
.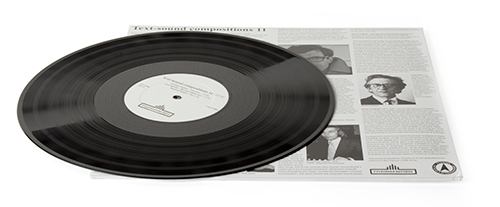 Christer Grewin - Ord som… (9.20)
A delicate, introvert soundpiece.
Lars Hallnäs - Mit einer Rede von… (3.35)
allnäs used a German voice and radio waves 'paying close attention to wave fluctuations caused by solar flares', a slightly confusing and unconventional short piece of spoken word and cut up electronics.
Roberta Settels - P4 (7.30)
Fascinating piece, full of noisy layers and radio static. Settels (1919-2014) was from the US but settled in Sweden in the 1950s.
Jon Appleton - Rödluvan (7.00)
Eight-year old Axel Bodin (son of Lars-Gunnar Bodin) reads the story of Rödluvan (Little Red Riding Hood), to which sounds from the Buchla synthesizer were added.
Eugeniusz Rudnik - Wokale (4.45)
High, singing voices as well as electronic sounds.
Rune Lindblad - Jag vill hem (9.25)
A very powerful piece of electronic sounds, old voices and filtered sounds of coughing.. Lindblad was THE pioneer of electronic music in Sweden, who started making electronic and concrete music already early 1950s.