Restocked, LP edition: The Expanding Universe is the landmark and long out-of-print 1980 debut album by composer and computer music pioneer Laurie Spiegel. The album is reissued here for the first time in a massively expanded two-CD set, containing all four original album tracks plus an additional 15 tracks from the same period, nearly all previously unreleased. Some of the already well-know works included in this set are "Patchwork", the complete "Appalachian Grove" series, and "Kepler's Harmony of the Worlds", which was included on the golden record launched on board the Voyager spacecraft. The pieces comprising The Expanding Universe combine slowly evolving textures with the emotional richness of intricate counterpoint, harmony, and complex rhythms (John Fahey and J. S. Bach are both cited as major influences in the original cover's notes), all built of electronic sounds. These works, often grouped with those of Terry Riley, Phil Glass, Steve Reich, differ in their much shorter, clear forms.
Composed and realized between 1974 and 1977 on the GROOVE system developed by Max Mathews and F.R. Moore at Bell Laboratories, the pieces on this album were far ahead of their time both in musical content and in how they were made. Each of the included works broke new ground, pioneering completely new methods of live interaction with computer-based logic - ways of creating music that are now reaching the heights of their popularity with Ableton Live, Max/MSP and other interactive music software entering mainstream music production.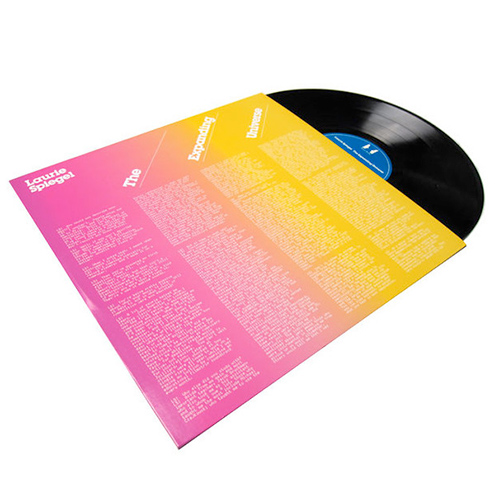 Notes
Tracklisting
Produced, composed, performed and recorded by Laurie Spiegel. Released under exclusive license to Unseen Worlds Records.
Dedicated to Max Mathews, Emmanuel Ghent, Ken Knowlton and F. Richard Moore.
Original cover design concept by Laurie Spiegel.
Direct Metal Mastered from 96khz/24bit digital.
All tracks originally released on LP in 1980 as Philo 9003, except "A Folk Study" which is newly released with this edition.
Additional information about these recordings available at retiary.org/ls/expanding_universe/
Limited edition of 500 copies on clear vinyl.
There are no tracklisting associated with this item