**Facsimile edition of the definitive (and legendary) guide to records by artists. Comes with flexi 7"** Broken Music' is a holy grail avant-garde music publication, a compendium of recordings, record-objects, artwork for records, and record installations created by thousands of visual artists between WWII and 1989. Unavailable since the original, sought-after 1989 edition, it features essays by its compilers Ursula Block and Michael Glasmeier, as well as Theodor W. Adorno, Milan Knížák and Laszlo Moholy-Nagy. Did we mention the bonus flexidsic? Aye, this one's very special.

Published in 1989 by Ursula Block, wife of curator René Block and proprietor of the legendary Gelbe Musik record store in Berlin (sadly not there any more, to save you a wild goose chase), 'Broken Music' is inarguably an essential guide and discography for recordings and audio works by visual artists of the 20th C. Through essays, texts, and photos, it breaks down the history of visual artists working with sound into four fascinating criteria of study: record covers created as original work by visual artists; record or sound producing objects (sculptures); books and publications that contain a record or recorded media object; and records or recorded media that have sound by visual artists.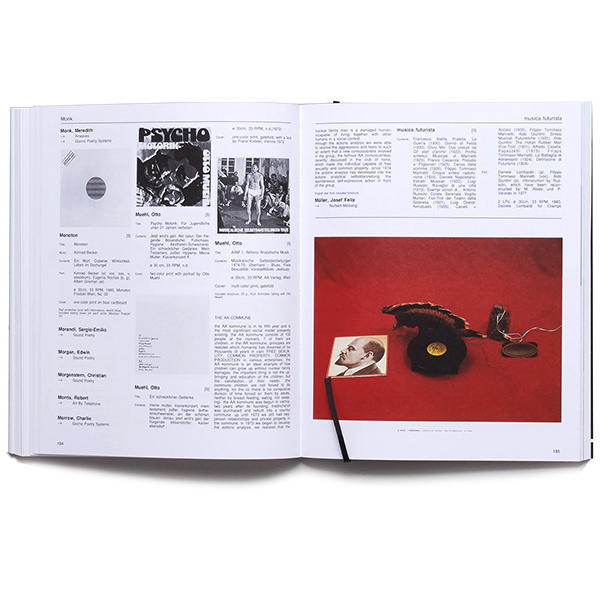 As far as we're aware, this is the only book of its kind, and at the very least, the only one to cover it's topic in such depth, drawing on a wealth of received information and personal knowledge to comprehensively highlight a peculiar and enduring niche of sound art. Books and lists like these are understandably invaluable to both art historians and record diggers, and this is among the most lucubrate we've come across, making connections between the formative, innocent experience of experimenting with records' physicalities, with Adorno's riffs on 'The Form of the Records', and 'Media Composition According to Cage', and looping back to Milan Knížák's recollection of 'Broken Music' in his titular text and bonus 7" flexidisc of his 1989 recordings.. Hundreds of works are documented by artists such as Vito Acconci, albrecht d., Joseph Beuys, Laurie Anderson, Guillaume Apollinaire, Karel Appel, Antonin Artaud, John Baldessari, Hugo Ball, Harry Bertoia, William S. Burroughs, John Cage, Henri Chopin, Henning Christiansen, William Copley, Philip Corner, Merce Cunningham, Hanne Darboven, Jim Dine, Jean Dubuffet, Marcel Duchamp, Fischli/Weiss, R. Buckminster Fuller, Allen Ginsberg, Philip Glass, Jack Goldstein, Hans Haacke, Richard Hamilton, Bernard Heidsieck, Isidore Isou, Marcel Janco, Allan Kaprow, Martin Kippenberger, Milan Knížák, Christina Kubisch, Laibach, John Lennon, Hermann Nitsch, Claes Oldenburg, Yoko Ono, Dennis Oppenheim, Nam June Paik, Tom Philips, Robert Rauschenberg, The Red Crayola, Jim Rosenquist, Dieter Roth, Gerhard Rühm, Conrad Schnitzler, Kurt Schwitters, selten gehörte Musik, Richard Serra, Robert Smithson, Michael Snow, Jean Tinguely, Yoshi Wada, William Wegman and Lawrence Weiner, among others.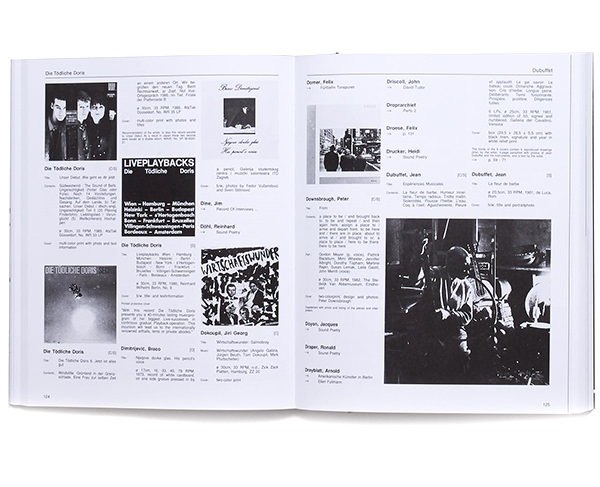 Edited by Ursula Block, Michael Glasmeier. Preface by René Block, Ursula Block. Text by Michael Glasmeier, Theodor W. Adorno, Jean Dubuffet, Milan Knížák, Laszlo Moholy-Nagy, Hans Rudolf Zeller. Afterword by Christiane Seiffert.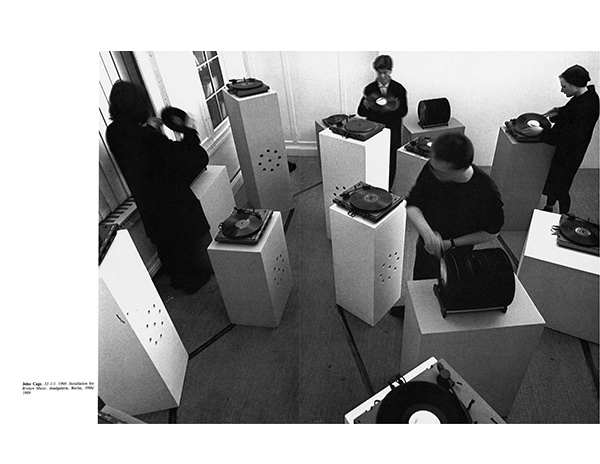 Cat. number: ISBN: 9780991558599
Year: 2018